American comics in the most "theme" of the superhero, sure of US captain. His name as the title of the country, the uniform is red and white blue with bright stars; the same color of the shield is his weapon. Yes, his birth, it is derived from the purpose of patriotism (
patriotic lapel pins
). Captain America is a fictional superhero appearing in American comic books published by Marvel Comics. Created by cartoonists Joe Simon and Jack Kirby, the character first appeared in Captain America Comics # 1 (cover dated March 1941) from Timely Comics, a predecessor of Marvel Comics.
Steven Rogers, who was a poorly recruited soldier, was transformed into a "super soldier" after experimenting with the US government, making his strength, speed, endurance and other physical abilities far more than ordinary people, The US government has given the world's hardest metal - sound-absorbing steel made of shields, from the United States as the captain of the identity of Steve, for the United States and World War II neutral distinguished military exploits.
Captain America, 6 feet 2 inches, 240 pounds, the birthplace of the United States (
USA lapel pins
) - New York - Brooklyn, Date of birth July 4, 1920 Occupation: World War II veterans, superheroes, faith: freedom, justice. This man is almost the popular role in Marvel Comics, so many people love his brave, strong, power and patriotic. This Captain America pin is made with bronze, arc front with edge color red and white, red and blue round star center. The same as his shield. Hard enamel with silver plating, beautiful colors and shape. Similar round hard enamel are:
google evolution lapel pins
and
STOP sign lapel pins
.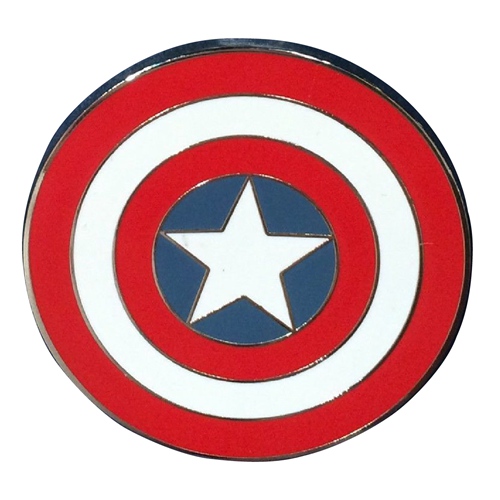 Below is the detailed specification:
1) Captain America lapel pin
2) Material: Bronze or iron
3) Size: 1" or custom size
4) Attachment: Butterfly clutch
5) Production process: Die struck-hard enamel-plating
6) Minimum order: No MOQ
7) Sampling time: 7 days
8) Delivery time: 12-18 days for 1000-5000pcs
9) Packaging: Each into a free poly bag
10)Payment Terms: T/T, Western Union, Paypal