In biology evolution refers to the genetic traits in populations changed between generations. Tis trait refers to a gene expression in the process of reproduction, genes passed to offspring by replication and mutation gene trait can change.
Evolution "term originated in Latin" evolvere ", intended to open a volume of things together, but also refers to anything grow, change or development, including the evolution of the stellar, the chemical evolution, cultural or concept Evolution. since the 19th century, usually used to refer to biological evolution.
Today this pin is also related with google, we made
google chrome pin
before. Here is the evolution lapel pin, black nickel plating with hard enamel, colors are on the same level with metal, the best quality. Top with colorful "Google", bottom "EVOLUTION". Round shape and center round, inner words "utah, gov, 2012". Any design or shape are can be customized, send us your inquiry please.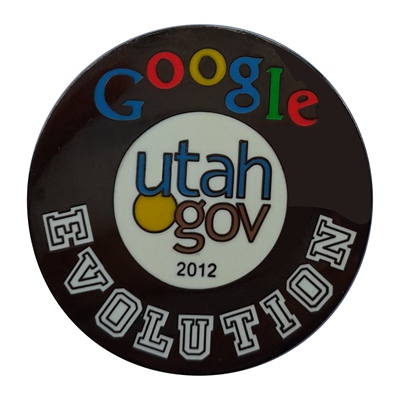 Below is the detailed specification:
1) Evolution lapel pins
2) Material: Bronze
3) Size: 1.5" or custom size
4) Attachment: Butterfly clutch
5) Production process: Stamping-plating black nickel-hard enamel
6) Minimum order: No MOQ
7) Sampling time: 7 days
8) Delivery time: 8-15 days for 100-10000pcs
9) Packaging: Each into a free poly bag
10)Payment Terms: T/T, Western Union, Paypal