As a daily necessary food utensil, the bowl can be traced back to the Neolithic clay pottery bowl. Its shape is not much different from today's, the mouth is small, the bowl is wide and the bottom is narrow. There is a bowl of feet, the height is generally one-half of the diameter of the mouth, mostly round, and rarely square. What is constantly changing is the material, the level of craftsmanship and the means of decoration. The general purpose is to hold food. Most Chinese prefer to use bowls as a diet tool, while Westerners prefer to use dishes. Bowl, you can take the homonym "Pu" word, meaning to retain meaning, can be used as a kind of gift, symbolizes better meaning. The materials used for the bowls are ceramics, wood, jade, glass, metal, etc. The finely crafted antique bowls are often the collector's favorite.
Understand the method of tableware disinfection, special bowls, healthy living. Boiling disinfection method: The specific method: place the washed bowls, pots and other tableware upright in the pot, add water to immerse the disinfected tableware, and then continue to boil for 5-15 minutes to achieve the purpose of disinfection. To achieve results, boiling, steaming, or using infrared disinfection cupboards are all optional. If you use boiling, in order to achieve true disinfection, you must cook for a while, and use infrared disinfection cupboards to maintain 15 to 30 minutes.
The bowl lapel pins is not a empty bowl, the pink and red soup, also some oranges on it. The round seems noodles, shinny star are so unique. Wave edge and round bottom likes the other bowls. The white color around, also the white spoon. It's not a normal soup or food. I like life pins as
electric fan lapel pins
and
telephone lapel pins
.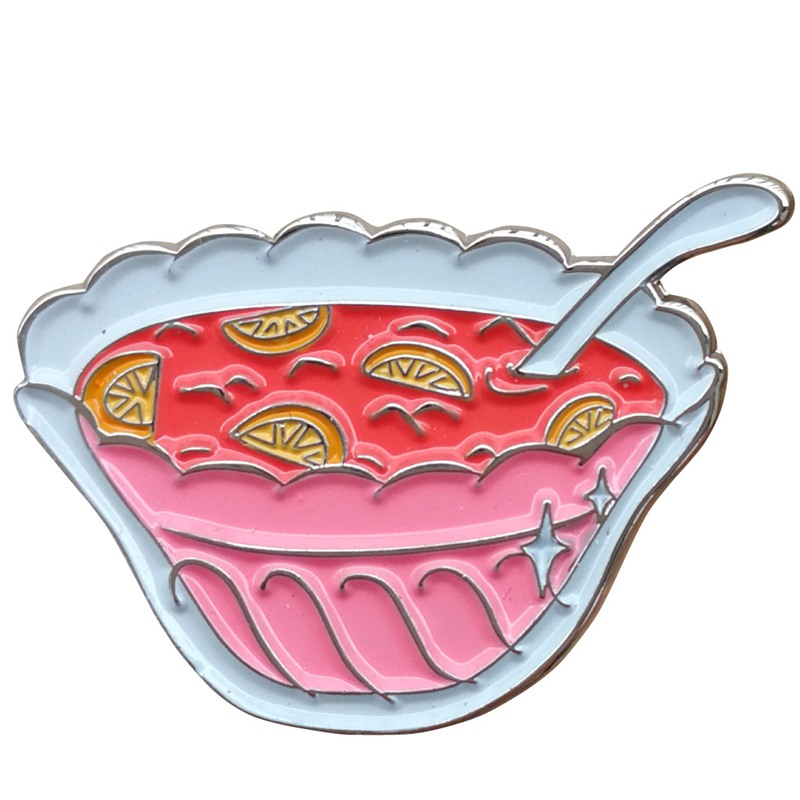 Here are the details:
1) Bowl lapel pins
2) Material: Iron/bronze/copper
3) Size: 1.25" or custom size
4) Attachment: Butterfly clutch or rubbers (black,yellow or red)
5) Production process: Die struck-polishing-silver plating-soft enamel
6) Minimum order: No Minimum (No MOQ)
7) Sampling time: 7 days
8) Delivery time: 10-15 days for 100-5000pcs
9) Packaging: Each into a free poly bag
10)Payment Terms: T/T Western Union Paypal