Electric fan is a use of motor-driven blade rotation, to achieve accelerated circulation of air appliances, mainly for the cool weather and circulation of air. Widely used in homes, classrooms, offices, shops, hospitals and hotels and other places. The mechanical fan originated in 1830, a man named James Byron inspired by the structure of the clock, invented a mechanical fan can be fixed on the ceiling, clockwork-driven. The cool breeze brought by the fan rotating blades makes people feel cool, but it is troublesome to climb the ladder to wind up.
Electric fan mainly by the fan, fan, grille and control devices and other components. Fan head, including motor, before and after the end cover and shaking head air supply agencies. The main components of electric fans are: AC motor. Its working principle is: power coil in the magnetic field force and rotation. Electrical energy into mechanical energy, at the same time due to the coil resistance, it is inevitable that part of the energy to be converted into heat.
The electric fan lapel pins is round top with small base,little 3D center. Four pink fan blade , other area are white. Three round silver (
silver lapel pins
) lines, seems very kind. It's
soft enamel
technology.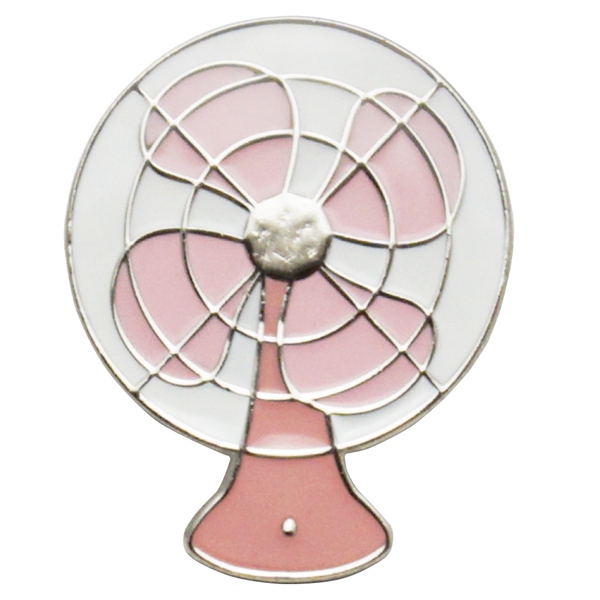 Below is the details:
1) Electric fan lapel pins
2) Material: Iron/bronze
3) Size: 1.25" or custom size
4) Attachment: Butterfly clutch or rubbers
5) Production process: Die struck-polishing-silver plating-soft enamel
6) Minimum order: No Minimum (No MOQ)
7) Sampling time: 7 days
8) Delivery time: 10-15 days for 100-5000pcs
9) Packaging: Each into a free poly bag
10)Payment Terms: T/T, Western Union, Paypal