Silver is a chemical element, chemical symbol Ag and atomic number 47, is a transition metal. Contain only small amounts of silver in the earth's crust, accounting for only 0.07 ppm, a single natural silver is existing, but the main are compound state. Atomic Weight: 107.8682 Density: 10.53 g / cc (20℃), melting point: 961.78℃, boiling point: 2213℃. Silver has good flexibility and extensibility, scalability, second only to gold can be pressed into thin slices, pull into filaments.The best metal in electrical conductivity and thermal conductivity.

Silver had served as the lawful currency of the silver standard countries, the prevalence of 1:00. But with the generation of the monetary system reform, credit, currency, silver gradually withdrawing from circulation. Casting silver investment coins and challenge coins. Also it can be made as silver pins, silver lapel pins. Not only can be investment but also it is crafts and artware. Less client will use silver because of it's so expensive like gold lapel pins. When you want to make a unique lapel pins or unique bottle opener. Silver is one better choice.

Here is the silver lapel pins: round shape as peace lapel pins or vote lapel pins. Edge with tyre design, and center engraved words: "PALMS CASINO RESORT", "LAS VEGAS,NY" and "Celebrity, POKER, SHOWDOWN" in the center. No other color or picture in it. Seems very simple and nice. We will give you the most responsible price and pretty quality for you with every order.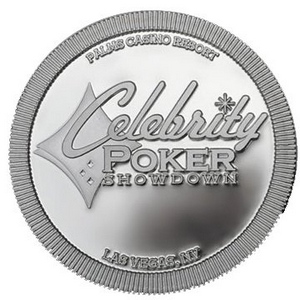 Below is the detailed specification:
1) Silver lapel pins
2) Material: Silver or other material
3) Size: Diameter 1 1/2" or custom size
4) Plating: Silver
5) Production process: Stamping
6) Minimum order: 1 piece
7) Sampling time: 7 days
8) Delivery time: 10-18 days for 1000-5000pcs
9) Packaging: Each into a free poly bag
10)Payment Terms: T/T, Western Union, Paypal