The peace often refers to the absence of war or other hostile to violence, also used to describe a person's excitement or quiet. Typically, the maintenance of national relations between the state of peace is the most people or organizations hoping, in particular, is similar to the United Nations international organizations such. Peace can be spontaneous, peace can be mandatory too.

Pacifism is opposed to all forms of war or violence, the pursuit of peace and non-violent ways to resolve interpersonal conflict and confrontation, faith and support of pacifism called Pacifist. The dove is a symbol of the pacifist doves in politics, with moderate means and hold to avoid the idea of war, to deal with domestic politics and international relations, political figures in the faction they belong to the moderate pacifist.

Peace can be bring peaceful, happiness and family. Nearly everyone are like peace. So take a peace pin to tell the people or world, you are a pacifist. Below the peace lapel pin is based on the logo of peace. Gin in the center and four hole, round shape as graduation pins and plastic lapel pins. Very different with the patriotic lapel pins. If you find the country flag pins, here http://www.lapelpinscn.com/flag-pins/ are many for you.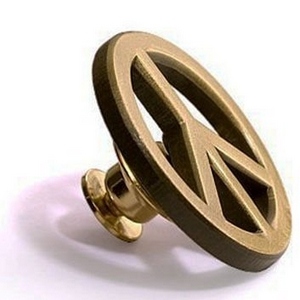 Below is the detailed specification:
1) Peace flag pin
2) Material: Zinc alloy
3) Size: Diameter 1" or custom size
4) Attachment: Deluxe clutch
5) Production process: Casting-punching-gold plating
6) Minimum order: No MOQ
7) Sampling time: 8 days
8) Delivery time: 8-18 days for 100-10000pcs
9) Packaging: Each into a free poly bag
10)Payment Terms: T/T, Western Union, Paypal