The lamp of Aladdin describes a poor young bastard named Aladdin who was invited by a magician from Maghreb in the "Westland" (who poses as Aladdin's uncle) and went to a trap Take a magic oil lamp from the cave. When the magician was about to make further use of Aladdin, the elf also brought him home, and Aladdin brought the oil lamp back. Just when his mother was about to clean the oil lamp, suddenly the oil lamp burst out a more powerful elf, waiting for the master's call at any time. With the help of the elves, Aladdin became rich and powerful, and he also married Princess Baderobador. The elf even built a beautiful palace for Aladdin, even more magnificent than the emperor's palace.
Later, the magician returned to the city where Aladdin lived, and deceived Badro Bador's magic lamp by fraud. At that time, she did not pay attention to the special oil lamp, and gave it to the magician to "replace the old lamp with a new one". The magician ordered the elves to move Aladdin's palace to Maghreb. Fortunately, Aladdin still holds the magic ring, so there are still less powerful elves to use. Although the ring elf could not directly decipher the magic of the magic lamp elf, he was able to take Aladdin to Maghreb to help him rescue his wife and defeat the magician.
The Aladdin lamp pins have the colorful colors, lamp body yellow, red cap and bottom. The lamp neck have the cloud words:"I WISH A BITCH WOULD", that's a interesting wish. Not about healthy, treasure, power, beauty or normal things. Whole Aladdin pins have the black metal with soft enamel, the words around have the purple glitter. It's a
glitter pins
as
castle lapel pins
.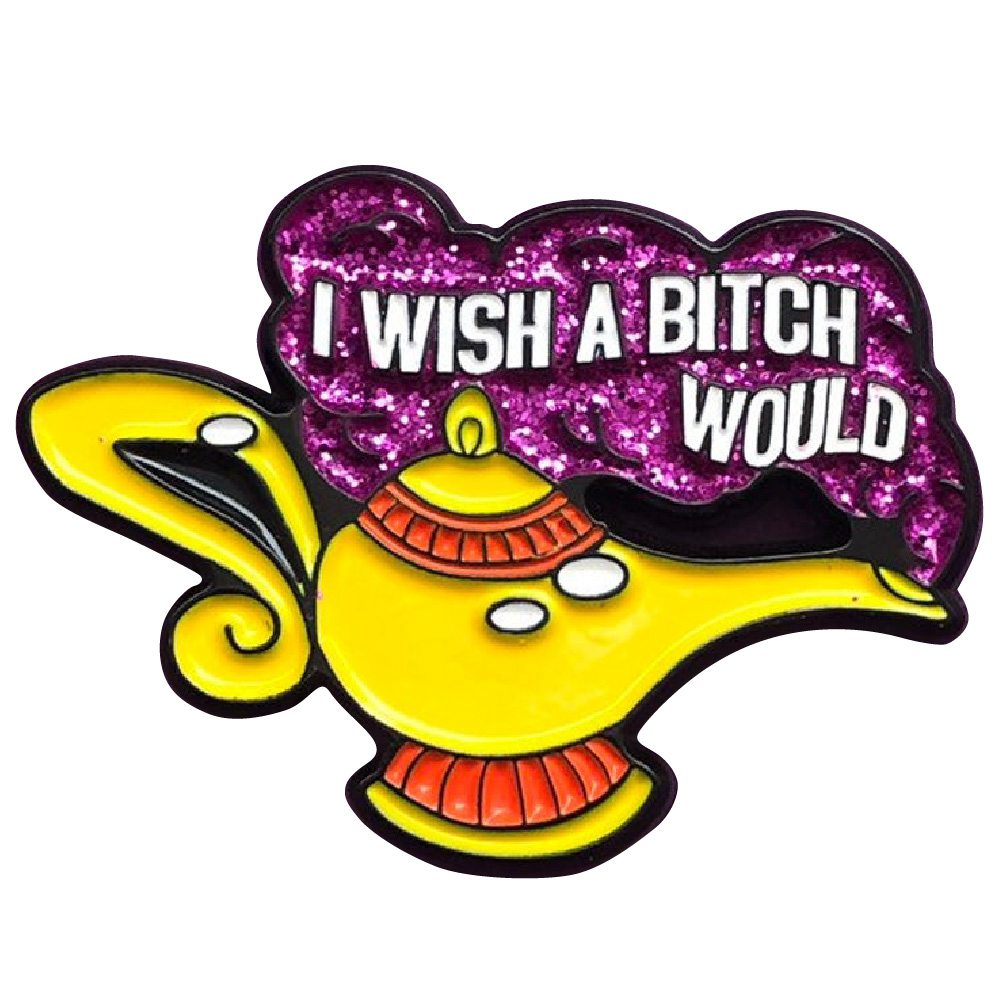 Here are the details:
1) Aladdin lamp pins
2) Iron/Bronze/Copper/Zinc alloy
3) Size: 1.5" or custom size
4) Attachment: Rubbers or butterfly clutch
5) Production process: Die struck-polishing-black metal-soft enamel
6) Minimum order: No Minimum (No MOQ)
7) Sampling time: 7 days
8) Delivery time: 10-15 days for 100-5000pcs
9) Packaging: Each into a free poly bag
10)Payment Terms: PayPal,T/T or Western Union