The Catholic Church is one of the major denominations of Christianity (Christian lapel pins), the Roman Catholic Church, the largest number of 1130000000 in the world, 17% of the total world population, largest church in Christianity Church . "Catholic" comes from the Greek (Greek pins) "καθολικ", meaning "universal, generic, and therefore be translated as" Catholic ". "Catholic Church" public "original originated from Latin catholicus, meaning" universal ".

The Catholic Church believes that there is a supernatural and super-social forces in the world and the universe, that is the force of God. He is unique, omnipotent, creating tangible and intangible things of God. Because he has three persons - Father, Son, and Holy Spirit, so called him a "trinity" of God. Everything in the universe are the creation of God, human of course God created. The Old Testament, Genesis reads: God five days to create all aspects of nature created man in six days, seven days rest. God's creation is the core of the Catholic Church.

You can pray, read the Old Testament everyday. Also you can have the Catholic things: Catholic display goods, Catholic daily use. Here is the Catholic lapel pins: whole gold plating, words: "THANK YOU FOR YOUR SERVICE", "CHARITY UNITY FRATERNTY PATRIOTISM" in red edge. Orange background color with words: "SHINC COLUMBHN", below is the sun and the Father take the Book and truncheon. Yellow (yellow lapel pins) house, purple mountain and blue, green, white in it. Nice quality and technology, making Catholic coins, Catholic keychain is OK too.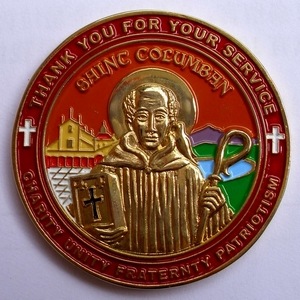 Below is the detailed specification:
1) Catholic lapel pins
2) Material: Iron/Bronze
3) Size: 1" or custom size
4) Attachment: Butterfly clutch
5) Production process: Die struck-enamel
6) Minimum order: 1 piece
7) Sampling time: 7 days
8) Delivery time: 10-15 days for 1000-5000pcs
9) Packaging: Each into a free poly bag
10)Payment Terms: T/T, Western Union, Paypal