Yin and Yang is a simple and broad Taoist philosophy, is a great Taoist philosophical thinking.
Yin and Yang philosophy itself has three characteristics: unity, opposites and mutual. In thinking, it is an integral part of mathematics (arithmetic) and divination (logic). The biological genes in nature, artificial intelligence in the binary are fully demonstrated the vitality of yin and yang.
Yin and Yang is a description of the fundamental factors behind the development of natural laws behind the laws of nature in ancient Chinese civilization. It is the driving force behind the development, maturation, decline and demise of all kinds of things. It is also the core of laying the foundation for the logical thinking of Chinese civilization Elements. To sum up, according to the Yi-ology thinking, what it describes is the most basic element of the universe and its role. It is one of the basic concepts of Fu Xiyi. Here is the
Egyptian pharaoh pins
and
Catholic lapel pins
related Taoism pins.
This Taoist Yin Yang lapel pins is the classic design for Taoism, the black and white, one color half each, the round "S" separate the big round. Then center black is the small white, center white is the small black. Silver metal color, also can be gold, bronze, copper.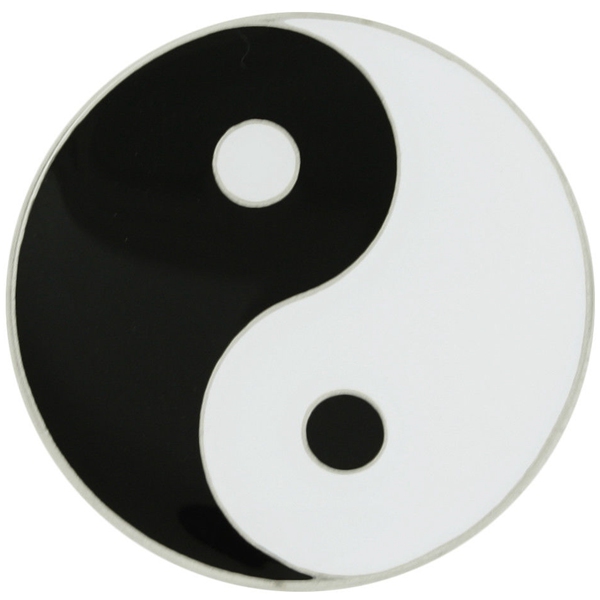 Below is the details:
1) Taoism Yin Yang lapel pins
2) Material: Iron/bronze
3) Size: 1" or custom size
4) Attachment: Butterfly clutch or rubbers
5) Production process: Die struck-polishing-hard enamel-nickel silver plating
6) Minimum order: No Minimum (No MOQ)
7) Sampling time: 7 days
8) Delivery time: 10-15 days for 100-5000pcs
9) Packaging: Each into a free poly bag
10)Payment Terms: T/T, Western Union, Paypal