Rainbow is an optical phenomenon in meteorology. When the sun shines on the water droplets in the air, the light is refracted and reflected, forming an arched colorful spectrum in the sky, which is common after rain. The shape is curved, usually semicircular. Colorful. The most common saying of seven colors of light in East Asia and China (sorted by wavelength from large to small): red, orange, yellow, green, blue, enamel, purple.
The rainbow in the sky is generally round, but because it is blocked by the horizon, it looks like a semi-arc on the ground. Double rainbow can also be called neon, the color of a rainbow (neon) above is reversed, to be lighter. I have also seen a rainbow like the sun, which is centered on the sun and surrounded by a rainbow. All the rainbows are round and stand tall to see the full circle. All the rainbows are multi-channel, just a question that can be seen clearly.
The colorful
rainbow lapel pins
have many metal area, most parts are the rainbow. The cute heart face seems strange and magic, the head top had two triangles. Down have four lines each side. Center eyes circle with yellow and black colors. Whole pins like a symbol or alien face.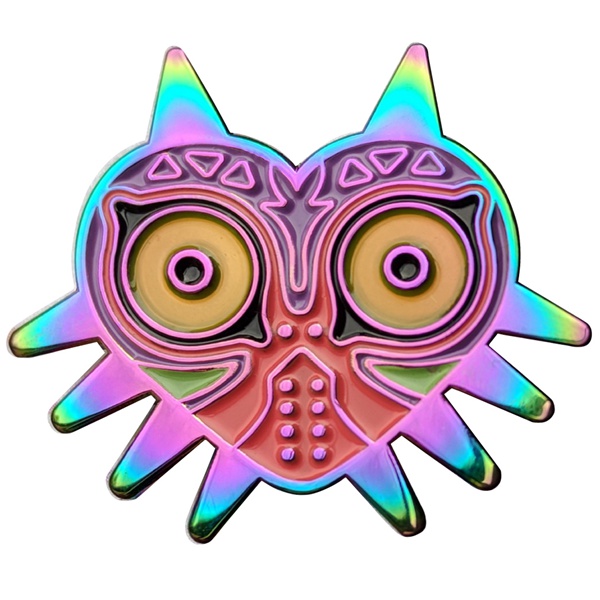 Here is the details:
1) Colorful rainbow lapel pins
2) Material: Iron/bronze/copper
3) Size: 1.25" or custom size
4) Attachment: Butterfly clutch or rubbers (black,yellow or red)
5) Production process: Die struck-polishing-rainbow plating-soft enamel
6) Minimum order: No Minimum (No MOQ)
7) Sampling time: 7 days
8) Delivery time: 10-15 days for 100-5000pcs
9) Packaging: Each into a free poly bag
10)Payment Terms: T/T Western Union Paypal