Personalized things are needed with people, especially who like the unique cell phone, unique computer, unique clothes. Here we made before: unique bottle opener and unique flag pins. Also we can make the unique and personalized name pins. Everyone, everything have the name, so if you want to make your personal pins. Lapel Pins CN is the nice choice.

We can make the pins for you as your design, photo or even idea. Style can be printing pins, enamel pins, stamping pins or 3D pins. Plating color can be silver, gold, copper, bronze, black metal, antique metal color. Any shape of round, triangle, square, star pins or any shape are fine. Filled color with any Pantone colours, or any photo with printing.

This is the name pins for you: one pretty woman laughing and roll the hair. Ear with a ear stud, words of: "PRO, SEC, CO". No other except these. Simple but nice, only black color and nickel plating. A little like the blank lapel pin. Do you interested in personalized name keychains?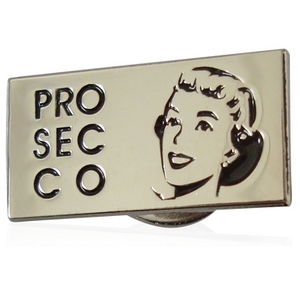 Below is the detail:
1) Personalized name pins
2) Material: Iron/Bronze
3) Size: 1" or custom size
4) Attachment: Butterfly clutch or safety clip
5) Production process: Die struck-enamel
6) Minimum order: 1 piece
7) Sampling time: 7 days
8) Delivery time: 10-15 days for 1000-5000pcs
9) Packaging: Each into a free oppbag
10)Payment Terms: T/T, Western Union, Paypal