Abraham Lincoln (February 12, 1809 - April 15, 1865), Republican, American politician, thinker, strategist, abolition of black slavery. The 16th President of the United States. The speech delivered at the inauguration ceremony of the Memorial Cemetery in Gettysburg on November 19, 1863, is the highest example of a recognized English speech.
During Lincoln's presidency, the United States broke out in the civil war. Historically, it was called the Civil War. Lincoln firmly opposed the country's division. He abolished slavery in the rebellious states and promulgated the Homestead Act and the Declaration of the Emancipation of Black Slaves. Lincoln defeated the separatist forces in the South and safeguarded the rights of the American Federation and its territories, regardless of race or human life. On April 14, 1865, shortly after the end of the civil war, Lincoln was assassinated and was the first US president to be assassinated and the first Republican president.
In 2006, Abraham Lincoln was named the top 100 in the United States by the US's leading journal Atlantic Monthly. The British "Times" 2008 Organizing Committee of Experts ranked the "Greatest Presidents" by 43 US presidents with different standards, with Abraham Lincoln ranking first. The front of the latest $5 bill is a photo of Abraham Lincoln.
Here is the Lincoln pilgrimage pins, the Lincoln in the center, black hair and light yellow face, black suit. The top round words:"66th LINCOLN PILGRIMAGE","1861-2011",bottom words:"CIVIL WAR","SESQUICENTENNIAL","ABRAHAM LINCOLN COUNCIL". Words background color is blue. More men pins:
lapel pins small order
and
KFC lapel pins
.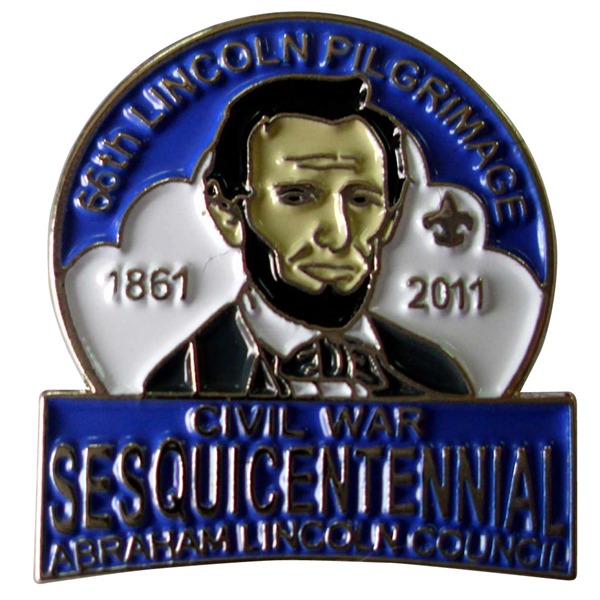 Here is the details:
1) Lincoln pilgrimage pins
2) Material: Iron/bronze
3) Size: 1.25" or custom size
4) Attachment: Butterfly clutch or rubbers (black,yellow or red)
5) Production process: Stamping-polishing-silver plating-soft enamel
6) Minimum order: No Minimum (No MOQ)
7) Sampling time: 7 days
8) Delivery time: 10-15 days for 100-5000pcs
9) Packaging: Each into a free poly bag
10)Payment Terms: T/T Western Union Paypal