KFC (Kentucky Fried Chicken, Kentucky Fried Chicken), referred to as KFC, is an American multinational chain restaurants, but also the world's second largest and the largest chicken fast-food chain, by Colonel Harland Sanders in 1930 in Kentucky Louisville created, mainly the sale of fried chicken, burgers, fries, egg tarts, soft drinks and other Western-style fast food.
KFC now part of Yum Brands, and formed a strategic alliance with PepsiCo, PepsiCo offers fixed selling carbonated beverages. KFC's operating philosophy is to continuously introduce new products or to previous sales of products repackaged for the mentality of the people early adopters to gain profit.

This KFC lapel pins made with bronze, black nickel plating, soft enamel with expoxy. Similar with paw lapel pins and dove lapel pins. KFC pins is not the same as original KFC logo, a little more words: "UM" and "Soul food II", also we add some glow in dark powder on the "UM" and mustache. You will see the little light at night.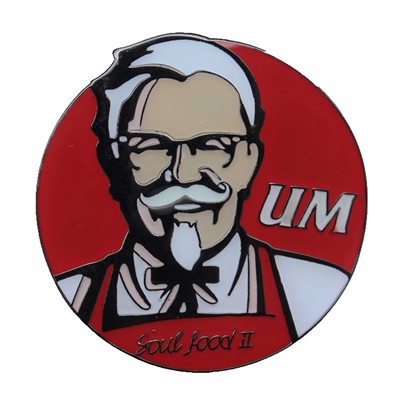 Below is the detailed specification:
1) KFC lapel pins
2) Material: Bronze
3) Size: Diameter 1.5" or custom size
4) Attachment: Rubbers clutch
5) Production process: Stamping-plating-hard/soft enamel
6) Minimum order: No MOQ
7) Sampling time: 8 days
8) Delivery time: 8-15 days for 100-10000pcs
9) Packaging: Each into a free poly bag
10)Payment Terms: T/T, Western Union, Paypal