Light bulbs, the source of light that glows and emits heat through electrical energy, was invented by Henry Goebbels (Edison actually found the right material to invent a practical incandescent light bulb that appeared as early as 1854). The most common feature of a light bulb is lighting. With the development of society, the use of bulbs also plays different changes, initially may be to facilitate the production of life, but with the progress of society, there have been significant changes in the use of light bulbs, began with the "car, landscaping Environment, decoration, "and so the different uses of functional lamps.
Its precise technical name is incandescent lamp, which is a kind of lamp which is used to heat incandescent and luminous filament through the use of electric resistance, which is made of filament (usually tungsten). The periphery of the bulb is made of glass, keeping the filament under a vacuum, or under a low pressure of inert gas, to prevent the filament from oxidizing at high temperatures. Modern incandescent lamp life of about 1,000 hours.
Bulbs are made according to the principle of thermal effects of current. After the bulb is connected to the rated voltage, the current is heated to the incandescent state (above 2000C) through the filament, thus generating heat and light. Thus at work, the electric energy is converted into internal energy and light energy.
Light bulbs used everyday, thankful this great invent, our life are become more convenience. It's content are more than just light. It's a part of life especially at night. Here the light bulb lapel pins: black nickel metal with cute (
cute cow pins
) design. Long yellow lines in the light bulbs with words: "lit", top right have the little white mouth smiled, bottom is the grey base.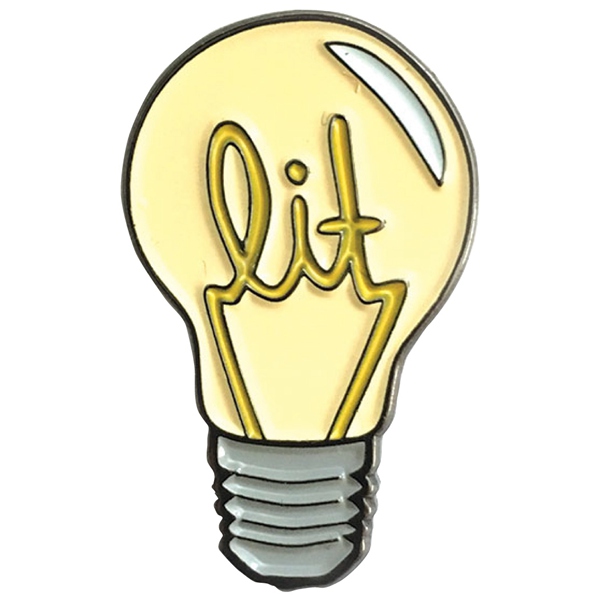 Below is the details:
1) Light bulb lapel pins
2) Material: Iron/bronze
3) Size: 1" or custom size
4) Attachment: Butterfly clutch or rubbers
6) Minimum order: No Minimum (No MOQ)
7) Sampling time: 7 days
8) Delivery time: 10-15 days for 100-5000pcs
9) Packaging: Each into a free poly bag
10)Payment Terms: T/T, Western Union, Paypal