Ice cream main raw material water, milk, milk powder, butter, sugar, adding amount of food additives, technology made by mixing, sterilization, homogenization, aging, freezing and hardening expansion of frozen drinks. Main nutrients: protein, carbohydrate, fat. Regulation of physiological functions to maintain osmotic pressure and maintain pH, refreshing. Storage: refrigerated, frozen (-18 ℃ or less). Flavors: chocolate, cream, green tea, strawberry ...
13th century, the world-famous Italian explorer Marco Polo returned to Italy, back with China's ice cream production method. In 1500, when a French king and a member of the Italian royal wedding, but also by the Italian ice cream successor to France. Frenchman on the basis of existing practices, but also adds many new ingredients. Around 1700, ice cream successor of the American continent.
Here is the ice cream lapel pin: whole gold plating with hard enamel. Top with white cream and center pink, bottle is the handle but with some chocolate. Cartoon shape like a small torch. This one is sort of food pins,like
KFC pins
and
pins no minimum
is a lollipop pin.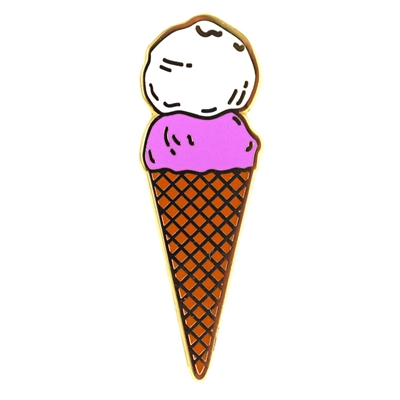 Below is the detailed specification:
1) Ice cream lapel pins
2) Material: Iron/Bronze
3) Size: 1.5" or custom size
4) Attachment: Butterfly clutch
5) Production process: Die struck-plating-hard enamel
6) Minimum order: No MOQ
7) Sampling time: 7 days
8) Delivery time: 10-15 days for 1000-5000pcs
9) Packaging: Each into a free poly bag
10)Payment Terms: T/T, Western Union, Paypal