A house is a building for human habitation, social activities or other purposes. It is the most basic source of human life. A house is a building where people live or store things. Housing is the foundation of the family. Housing is the sustenance of human survival. Here, people can avoid all external disturbances and enjoy their free and easy lives with their loved ones. This kind of house-based thinking has a profound impact on people. People all work hard to own their own homes.
How much is a building built on permanent design, occupying land space, usually with a roof, mostly fully walled, as a house, warehouse, factory, livestock shed or other useful building.
Generally refers to a permanent place with a roof, surrounded by a wall, able to prevent wind and rain, keep warm and insulate, for people to work, live, study, play, and store supplies, and has a fixed foundation, and the floor height is generally 2.2 meters or more. However, according to the habits of housing in certain places, caves, bamboo houses, etc., which are available for people to live for a long time, should also be included. Residential structure: Generally includes: living room, bedroom, dining room, kitchen, bathroom, loft and so on.
Under the extreme conditions of extreme weather and climate change, major universities have won all the first prizes in the US Department of Energy's solar decathlon competition.
This house lapel pins are colorful, yellow, green, white, blue... One big palm front also big tree back. It has the big window, the white door, lines looks very beautiful. It's a small house, but you will feel like happy in there. Other life pins are beautiful
castle lapel pins
and
Cadillac car lapel pins
.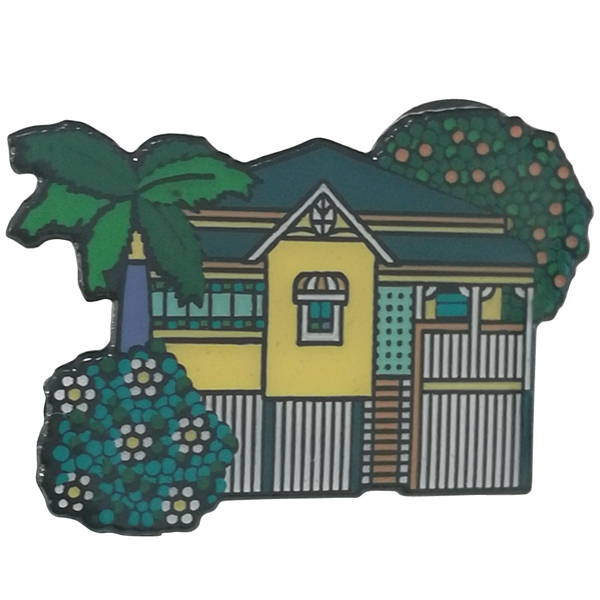 Below is the details:
1) House lapel pins
2) Material: Iron/bronze
3) Size: 1.25" or custom size
4) Attachment: Butterfly clutch or rubbers
5) Production process: Die struck-polishing-hard enamel-black plating
6) Minimum order: No Minimum (No MOQ)
7) Sampling time: 7 days
8) Delivery time: 10-15 days for 100-5000pcs
9) Packaging: Each into a free poly bag
10)Payment Terms: T/T, Western Union, Paypal