"V for Vendetta" by director James McTeigue, Joel Silver and the Wachowski brothers produced sci-fi movie.
The film based on Alan Moore and David Lloyd's comic book adaptation, tells the story about freedom, democracy, the people brainwashing reform, dictatorship story. Scene set in London - dystopian society, describing a mysterious figure wearing a Guy Fawkes mask, and an attempt to create social and political change, while secretly promoting intense personal revenge freedom fighter V.
The most famous sign for V is the mask: The Guy Fawkes mask. He said, everyone can recognize the mask in England. The culture knows for people. The mask have white, pink and black colors in the movie, little smile and little serious. Here we made Guy Fawkes mask pin: only black and white color. Material is iron, black spray for black, white is soft enamel. The eyes is little different than the original one, so here is the change. About more person pin:
Christmas Lapel Pins
and
KFC lapel pin
.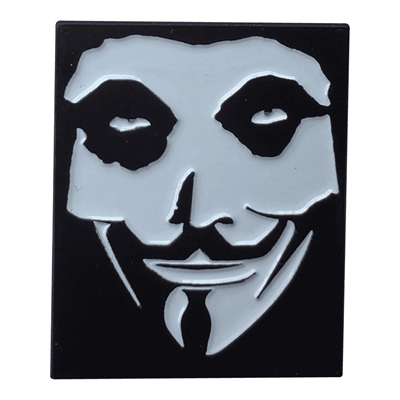 Below is the detailed specification:
1) Guy Fawkes mask pin
2) Material: Iron
3) Size: 1.5" or custom size
4) Attachment: Black spray
5) Production process: Die struck-plating-enamel
6) Minimum order: No MOQ
7) Sampling time: 7 days
8) Delivery time: 10-15 days for 1000-5000pcs
9) Packaging: Each into a free poly bag
10)Payment Terms: T/T, Western Union, Paypal