Guitar is a string instrument, usually with six strings, similar to the shape of the violin. Guitar in pop music, rock music, blues, folk, flamenco are regarded as the main instrument. In the field of classical music, the guitar solo or duo perform the type. Classical guitar, violin and piano are the world-famous three instruments.
Guitar ancestors can be traced back to two or three thousand years BC, the ancient Egyptian Nefer, Babylon and ancient Persia's various ancient string instrument. Because of guitar tone elegant, easy to learn, has a very personal tone and expression, both express euphemism and murmur, but also to express majestic heroic spirit, so people dreaming to make. Depending on the structure of the guitar and the principle of sound can be roughly divided into three types acoustic guitar (folk / fingerstyle guitar, flamenco guitar), electric guitar (such as standard electric guitar and bass guitar) and classic 6 string guitar (classical guitar).
Do you want to make a guitar lapel pins? Here is one of them, so many guitar around, total 12 pieces. They are made with zinc alloy, gold plating and white hard enamel, but blue color is transparent with glitter. Little complex but very beautiful. Seems lots of guitar is very exciting when I use it. Here is the
music lapel pins
also it a guitar with soft enamel process.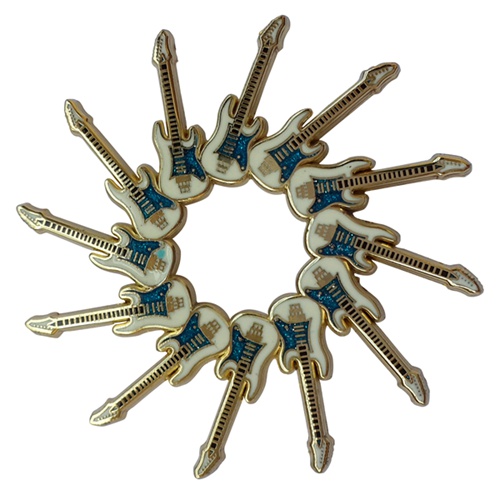 Below is the detailed specification:
1) Guitar lapel pins
2) Material: Zinc alloy
3) Size: 1.5" or custom size
4) Attachment: Butterfly clutch/jewelry clutch
5) Production process: Die casting-plating-hardenamel
6) Minimum order: No MOQ
7) Sampling time: 7 days
8) Delivery time: 8-15 days for 100-10000pcs
9) Packaging: Each into a free poly bag
10)Payment Terms: T/T, Western Union, Paypal