The eyes are the organ that most animal receives light and images are formed in the brain. For humans, it is the visual organ, one of the most important sensory organ. Eye is a very delicate organ, in different circumstances to carry out their specific morphological change, so human access to the right information in a complex environment.
Eye is the most can make people feel their feeling unwell or diseased . Human visual organs, including the eye, depending on the road and appendages. Nearly spherical shape of the human eye, called the eyeball.
There are a lot of people because the job needs to be looking at the computer monitor all day long, easily lead to visual fatigue for long time, and even induce some eye diseases. Therefore, regular use of computers should pay attention to eye health. Avoid long continuous operation of computer, pay attention to rest. Usually 1 hour continuous operation, rest 5 to 10 minutes, to maintain a good working posture.
This eye lapel pins is very similar with the real eyes. Also we can making other human pins like:
hands lapel pins
. This one have the eyelash, eyeball, not very much details, but seems close. Making with zinc alloy and white and pink color filled. Eyes have so many details, the best way is making with
printing pins
.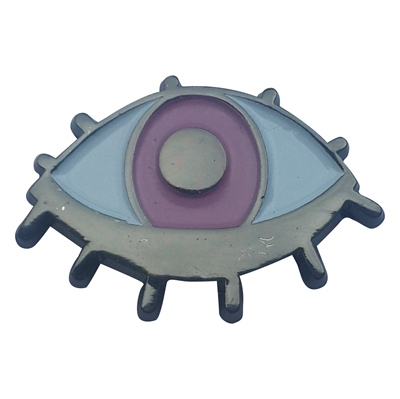 Below is the detailed specification:
1) Eyeslapel pins
2) Material: Zinc alloy
3) Size: 1" or custom size
4) Attachment: Butterfly clutch
5) Production process: Die Casting-plated-enamel
6) Minimum order: No MOQ
7) Sampling time: 7 days
8) Delivery time: 10-15 days for 1000-5000pcs
9) Packaging: Each into a free poly bag
10)Payment Terms: T/T, Western Union, Paypal