MBA is a professional master's degree, different with the general graduate students. MBA is the ability to cultivate high-level management talents who can meet the needs of high-level management of industrial and commercial enterprises and economic management departments. The enrollment of MBA is generally graduated from college, college graduates with more than three years of practical experience Of the state organs and institutions of cadres and business executives and technical staff, MBA education is essentially a professional training, through business case analysis, combat observation, analysis and decision-making skills training to train students to practice the practical skills, so that students Accept the knowledge and skills, personality and psychology, goals and aspirations and other challenges, more professional competition strength.
The MBA degree was founded by Harvard Business School (HBS) and was gradually recognized by major business schools around the world. MBA was born in the United States, after a hundred years of exploration and efforts, it has trained a large number of outstanding business management personnel, creating the myth of the US economic development and miracles. MBA known as the "pride" and "management elite", as the business community and even the community respect and envy of special people, even in the public mind is regarded as "business hero." According to statistics, the United States the largest 500 companies, general manager, chairman and other senior executives, the vast majority are MBA.
So making one MBA lapel pin when graduation is commendable. This
custom pins
is made with gold metal, soft enamel two colors: center white and purple around. Top is the round shcool logo of NANKAI UNIVERSITY, 1919 and Chinese "南开". Shield shape whole MBA lapel pins, here are more similar pins:
cool lapel pins
and
LEO pins
.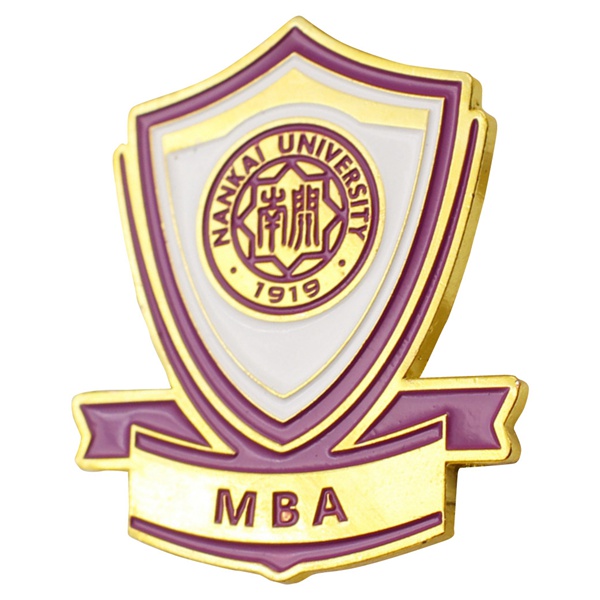 Below is the details:
1) Custom MBA lapel pins
2) Material: Iron/Bronze
3) Size: 1.25" or custom size
4) Attachment: Butterfly clutch or rubbers
5) Production process: Die stamping-gold plating-soft enamel
6) Minimum order: No MOQ
7) Sampling time: 7 days
8) Delivery time: 10-15 days for 100-5000pcs
9) Packaging: Each into a free poly bag
10)Payment Terms: T/T, Western Union, Paypal