Corals belong to Coelenterata, Anthozoa, and there are more than 7,000 species, all of which are marine products. Coral reef ecosystems are also called underwater "tropical rainforests" and have important functions such as protecting the coast, maintaining biodiversity, maintaining fishery resources, and attracting tourism. Many individual corals are colorful, and some coral species have amazing fluorescent effects.
At the stage of white larvae, corals are automatically fixed on the calcareous remains of predecessors. Corals are the shells secreted by corals. The chemical composition of corals is mainly calcium carbonate. The color is often white, and there are also a few blue and black Corals not only look like branches, they are bright and beautiful, they can be used as ornaments, and they have high medicinal value. Their role in the environment is irreplaceable.
The coral image is like a tree branch, with bright and beautiful colors, which can be used as an ornament. Gem-grade corals are red, pink, and orange-red. The red color is formed by corals absorbing about 1% of iron oxide in seawater during the growth process, and the black color is due to organic matter. With glass luster to waxy luster, opaque to translucent.
The coral lapel pin is pink color, gold metal with zinc alloy die casting technology. Polishing edge well for zinc alloy have the thorn all around, top are have some dot on it. Only one color filled with soft enamel process. Small holes can be made with zinc alloy. Also can make with 3D design like
lion lapel pins
, more vivid and reality.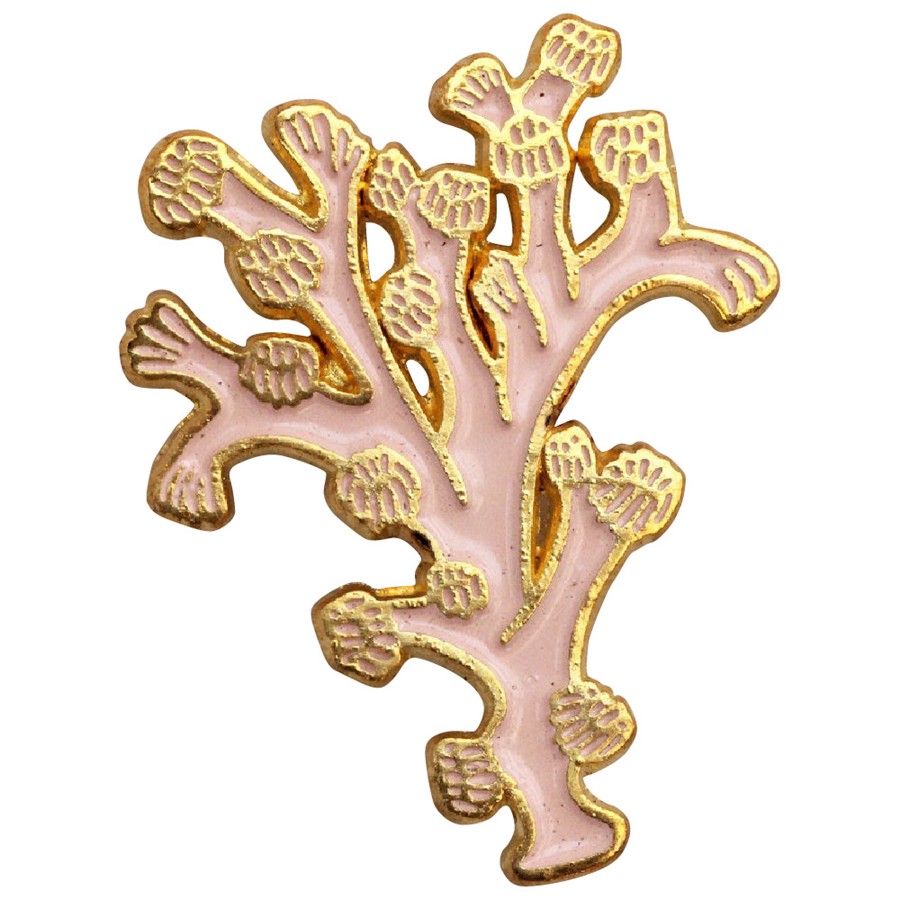 Here are the details:
1) Coral lapel pins
2) Zinc alloy/pewter alloy
3) Size: 1.5" or custom size
4) Attachment: Rubbers or butterfly clutch
5) Production process: Die casting-polishing-gold plating-soft enamel
6) Minimum order: No Minimum (No MOQ)
7) Sampling time: 7 days
8) Delivery time: 10-15 days for 100-5000pcs
9) Packaging: Each into a free poly bag
10)Payment Terms: PayPal,T/T or Western Union