Clown is one of the comedian, common in the arena, circus, variety shows, carnival, children's programs and birthday parties and so on. They During the performance, multi wearing large shoes and fancy dress, also by painting his face, especially the nose section is more prominent. These make-up in order for the audience laughter. Clowns will usually come with their own embarrassing entertain the audience.
Attract children's clown is one of the performers, the American ambassador fast-food chain McDonald's - "Ronald McDonald" clown modeling is to see that the popular kids are welcome, and thus has attracted many children to patronize. Here is the
KFC lapel pins
.
This clown terron pins made with bronze, hard enamel with nickel silver plating. The clown have big red nouse, and long black eyebrow, many red hair and two hands stretching. Words: "CLOWN on top, TOWN and TERROR bottom". Seems a knife on the bottom words. Funny but a little fearsome. Nice design and quality for this hard enamel pin.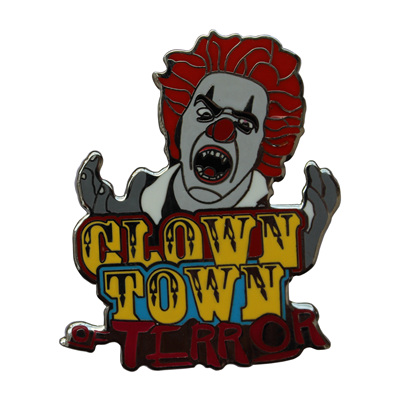 Below is the details:
1) Clown terror pins
2) Material: Bronze
3) Size: 1.5" or custom size
4) Attachment: Butterfly clutch or rubber backs
5) Production process: Die struck-cutting-hard enamel
6) Minimum order: 1 piece
7) Sampling time: 7 days
8) Delivery time: 10-15 days for 1000-5000pcs
9) Packaging: Each into a free oppbag
10)Payment Terms: T/T, Western Union, Paypal