The clown (
clown terror pins
) is one of the comedians and is often seen on stage, circus, variety shows, carnival, children's programs and birthday parties. When they performed, they wore extra-large shoes and fancy dresses. Their faces were also painted, especially in the nose. These quirky and funny costumes bring laughter to the audience. Usually clowns entertain themselves with their own entertainment.
Here are more roles of clown: Brutus in Popeye, Uncle McDonald, Image Ambassador of McDonald's Food Chain Store in the United States, Joker in Batman and Don Quixote Dover in One Piece Langminger
White face, a typical white-faced clown, has a white background, a red or black eye and muzzle, and other decorations use different colors. The size of the mouth and muzzle of the white-faced clown is the same as that of ordinary people. Auguste: A typical fool, the background is red and white, and the shape of the eye and muzzle is huge. The mouth and eyes have wide, white edges. Tramp/Hobo: This type of clown, mainly when the American coal train was eliminated, the driver of the train switched to work as a clown. These clowns have beards, beards, freckles, vicissitudes, baldness, but they love to dress. The most commonly used role is tramps or unemployed people.
This clown lapel pins have the cute and evil face. He smiled show the tooth. Head has the orange color straight up, white face with green eyes and mouth. The red lines across the eyes and mouth. Bottom is the light blue clothes, "FLOATER" on it. Here are more cartoon pins:
Astro Boy pins
and
cartoon queen pins
.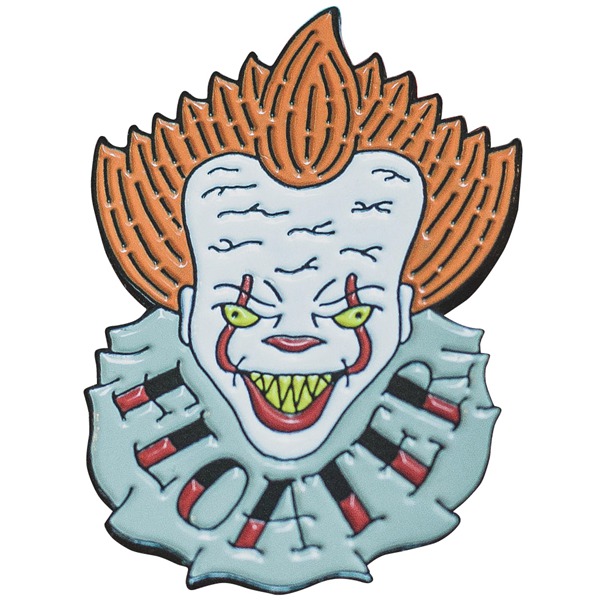 Here is the details:
1) Clown lapel pins
2) Material: Iron/bronze/copper
3) Size: 1.25" or custom size
4) Attachment: Butterfly clutch or rubbers (black,yellow or red)
5) Production process: Die struck-polishing-black metal-soft enamel
6) Minimum order: No Minimum (No MOQ)
7) Sampling time: 7 days
8) Delivery time: 10-15 days for 100-5000pcs
9) Packaging: Each into a free poly bag
10)Payment Terms: T/T Western Union Paypal