In 1902, Henry Leland, an outstanding mechanic and entrepreneur, created Cadillac (
Cadillac car pins
) with extraordinary courage. The name of the new company is to commemorate the founder of Detroit, Anthony Mendes Cadillac. In fact, the coat of arms emblem of the history of the Cadillac family is a source of inspiration for the brand logo.
Since its establishment more than a hundred years ago in Detroit, Cadillac represents a breakthrough in the nature of regulation and the endless pursuit of extraordinary and ambitious American spirit. From developing the world's first automatic electronic ignition engine to integrating computer technology into the car for the first time, providing users with color options other than black for the first time, and then creating the CTS-V series, the fastest production car in the family history. The glorious history of Cadillac.
In 1895, the United States Auto Union, the world's oldest auto club, was established on the advice of the racing athlete Charles Brady Kinginger and established the world's oldest charter of auto club activities. After more than a century of development, the total number of car club members in countries around the world exceeds 200 million, of which nearly half of the car owners in the United States are members of various types of car clubs.
Here is one of the car club pins: Cadillac
club lapel pins
. Grey background color with logo center: crown top and duck swimming in the water. The Cadillac logo shape outside the duck, two long triangles bottom. Words: "Cadillac LaSalle Clubs of Australia" top and "2018 Australian (
Austria flag pins
) Grand National Renmark SA","Rollin' on the River" bottom.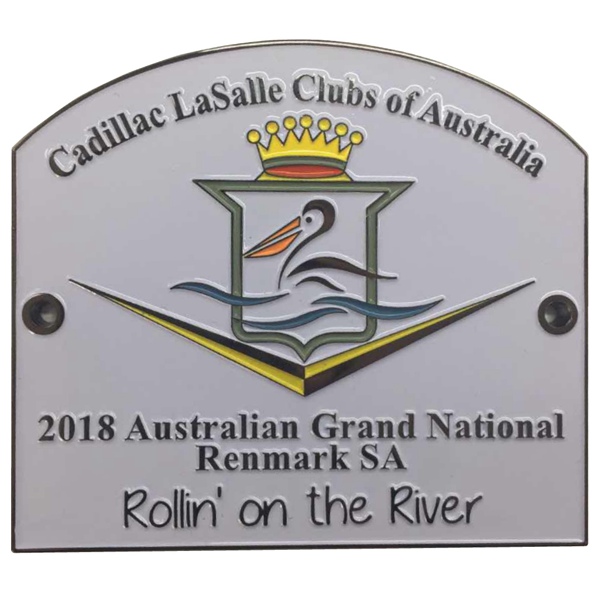 Below is the details:
1) Cadillac club lapel pins
2) Material: Iron/bronze
3) Size: 1.5" or custom size
4) Attachment: Butterfly clutch or rubbers
5) Production process: Die struck-polishing-black metal plating-soft enamel
6) Minimum order: No Minimum (No MOQ)
7) Sampling time: 7 days
8) Delivery time: 10-15 days for 100-5000pcs
9) Packaging: Each into a free poly bag
10)Payment Terms: T/T, Western Union, Paypal