The state of Arkansas, a state of the southern United States, is located in the middle and lower reaches of the Mississippi River, north of Missouri, west of Oklahoma, south of Louisiana, southwest and Texas border , East across the Mississippi River, its area of ​​137539Km². Its capital is a Little Rock. State name from the Indian language, the natural environment is good, known as the "natural state".
Arkansas Main scenic spots: Arkansas Convention Center, Science and History Museum, Multifunctional Theater, Hot Springs National Park, Central American Science Museum, Stadium and the Clinton Presidential Library. In 1992, Little Rock was named the "City of America", 1996 by the Arkansas community development of the highest prize. Featured Activities: Toad Suck Daze, an annual celebration, designed to celebrate the local culture and history.
The Famous figures are the 42nd President of the United States Bill Clinton (William Jefferson Clinton), politician, former governor of Arkansas, Mike Huckaby, singer Johnny Karsh, singer Chris Allen, NBA star Scottie Pippen, the USA (
USA lapel pins
) five-star general, former West Point military school principals, the Second World War Allies Pacific Theater Commander Douglas MacArthur.
The Arkansas lapel pins: designed round shape and gold metal, circle with black words round: "ARKANSAS" and two star top, bottom with "UNITED STATES OF AMERICA". Center is the map of Arkansas, background is the national flag of USA: red,white and blue colors. Good pins customized. Here are more state pins like
Arizona lapel pins
and
Alabama lapel pins
.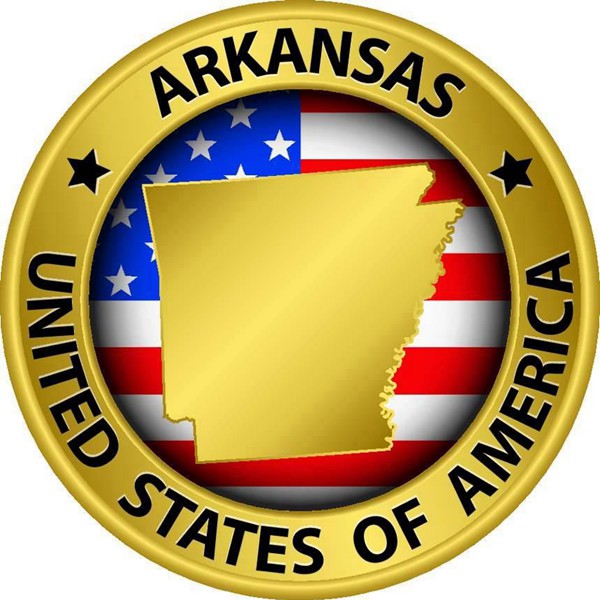 Below is the detailed specification:
1) Arkansas lapel pins
2) Material: Iron/bronze
3) Size:Daimeter 1" or custom size
4) Attachment: Butterfly clutch
5) Production process: Stamping-plating-soft enamel
6) Minimum order: No MOQ
7) Sampling time: 8 days
8) Delivery time: 8-15 days for 500-10000 pcs
9) Packaging: Each into a free OPP bag
10)Payment Terms: T/T, Western Union, Paypal