The seed of the genus Fagaceae is called eucalyptus, commonly known as acorn. Acorns are rich in starch, which is second only to grains and much higher than beans, generally more than 50%, up to 87%. Fat, protein, and VB are higher than the grain.A large part of the acorn refers to the nuts of the genus Amaranthus, which resemble silkworm cocoons, the hard shell of the acorns, brownish red, inner kernels such as peanuts, and rich in starch.
As a food, acorn can be used as a tofu and used for brewing in addition to edible acorn and acorn starch. The only industrial use currently is sizing in the textile, printing and dyeing and paper industries.
Oak, also known as eucalyptus, is a generic term for the genus Fagaceae, the leaves (l
eaves lapel pins
) are beautiful. There are more than 300 species of eucalyptus in the world. Because eucalyptus can adapt to a wide range of climatic and soil conditions, there are genus of genus in tropical, temperate and frigid zones. The oak grows rapidly, resists drought, has fewer pests, and does not need special management. It can be planted in barren hills and sand dunes.
The acorn lapel pins have the gold metal lines, top head with dark brown, down have the three blue colors, the "AB" in it, the seed shape normally. You will love it when take this little
hard enamel pin
, small but details are fine.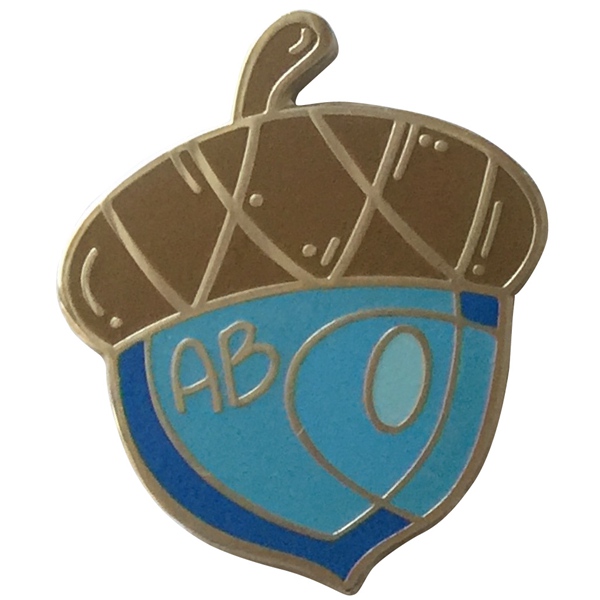 Here is the details:
1) Acorn lapel pins
2) Material: Iron/bronze/copper
3) Size: 1.25" or custom size
4) Attachment: Butterfly clutch or rubbers (black,yellow or red)
5) Production process: Die struck-polishing-hard enamel-gold plating
6) Minimum order: No Minimum (No MOQ)
7) Sampling time: 7 days
8) Delivery time: 10-15 days for 100-5000pcs
9) Packaging: Each into a free poly bag
10)Payment Terms: T/T Western Union Paypal