Hard rock, blues developed a rock style, with relatively strong guitar distortion guitar is more complex, more ingredients lead guitar, blues more concentrated flavor. Performance is usually very large-scale, open-air concert guitar riffs, backbeats exaggerated; its purpose is usually aimed at commercial value, it is almost always permeated with masculinity. Representative of the band have ACDC, Aerosmith, Airbourne, Alice Cooper and so on.
Hard Rock is an often used to describe any kind of loud, aggressive guitar rock of the word, not for these purposes, the definition is more precise. The exact point, the hard core is really loud with aggressive guitar rock, but it is not same as heavy metals, which is influenced by punk little (although he helped produce punk inspiration).
Also Hard Rock is a brand, especially Hard Rock Cafe. Popular in US and European. They sell the pins in restaurant and website, design and quality are very nice. Proprietary triangle black rubber and logo backs. Here we introduce one: the Hard Rock CAFE pins, design of the sex girl with white underwear. Two swings expanded with purple, black and grey colors. Hard enamel process and transparent purple glitter, same with
guitar lapel pins
. You need to have the Hard Rock pins if you like pins.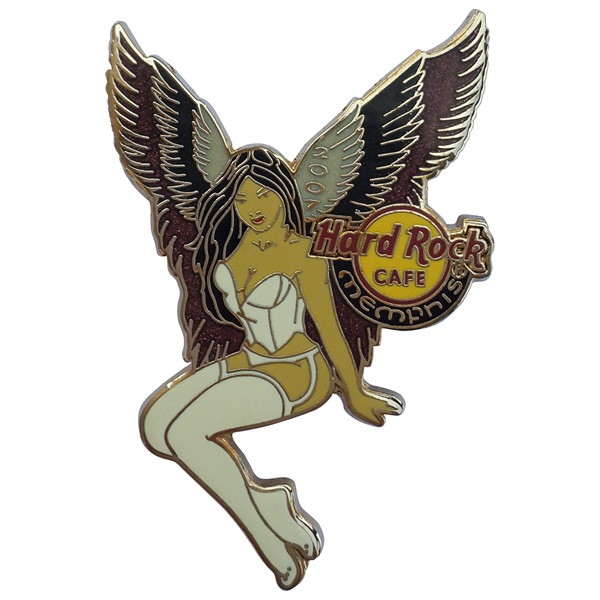 Below is the detailed specification:
1) Hard Rock Cafe lapel pins
2) Material: Bronze/ Zinc alloy
3) Size: 1.5" or custom size
4) Attachment: Rubber backs
5) Production process: Die casting-plating-hard enamel
6) Minimum order: No MOQ
7) Sampling time: 7 days
8) Delivery time: 10-15 days for 1000-5000pcs
9) Packaging: Each into a free poly bag
10)Payment Terms: T/T, Western Union, Paypal