Do you know or love basketball sports? It's a amazing game and loved by millions of fans in the world. You need to practise and playing some years if you want to play well. We have making many sports lapel pins like: hockey lapel pins, bowling lapel pins and baseball lapel pins. Here is the basketball lapel pins: design and shape of one side of basketball. Gold plating with nice ball lines and grain. Simple but very impressive.

Basketball is one of ball games with the two teams involved, each team played five players. The purpose of the ball into the other basket and score, and prevent access to the ball or score. Today's world the highest level of basketball league National Basketball Association (NBA). Basketball shooting, layups and dunks adversarial one of the sports center for the Massachusetts Field YMCA training school teachers, Dr. James Ness Smith created in January 1892.

Basketball World Championships learn to the FIFA World Cup, the Rugby World Cup (RWC), Cricket World Cup (CWC), has name changed to the FIBA Basketball World Cup. "Street basketball is HipHop's street basketball background. Throw away all kinds of cumbersome rules, and we came to the street. In the streets, followed by the HIPHOP of rhythm, and everyone will work together to enjoy the fun of free basketball.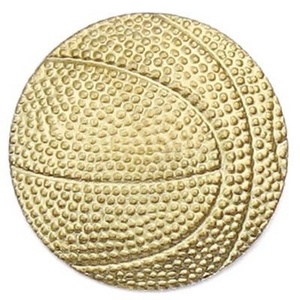 Below is the detailed specification:
1) Basketball lapel pins
2) Material: Iron/Bronze
3) Size: Diameter 1" or custom size
4) Attachment: Butterfly clutch
5) Production process: Stamping-plated
6) Minimum order: 1 piece
7) Sampling time: 7 days
8) Delivery time: 10-18 days for 1000-5000pcs
9) Packaging: Each into a free poly bag
10)Payment Terms: T/T, Western Union, Paypal