Sagittarius born from November 23 to December 21, the ninth house of the zodiac, is located east of Scorpio and west of Capricorn. Sagittarius is a constellation symbolizing the coming of winter, and the symbol is an arrow pointing to the upper right. The Sagittarius is frank, generous, and true to people; he pays attention to cultural cultivation and friendship.
Sagittarius
Ruler: Jupiter
Guardian God: Zeus
Constellation attributes: Fire Elephant
In charge of the palace: the ninth house
Astrological sign: Gemini
Lucky day: Thursday
Lucky numbers: 3, 7, 9, 8
Lucky Stone: Amethyst, Turquoise
Pursue the goal of life, go forward courageously, outside hot and inside cold. With a strong physique and a generous open mind, even if he suffers setbacks and failures, he is gritty and will not be discouraged. Optimism, if not careful, there is a danger of falling into the trap. The ruler of Sagittarius is Jupiter. Sagittarius men value affection and righteousness. In their minds, friendship and arrogance trump everything. Therefore, Sagittarius can be said to be a typical example of inserting a knife for a friend. They are optimistic and tenacious by nature, they are active and enterprising, they don't like two sides and three swords, they are trustworthy and reliable friends.
The sagittarius lapel pins is the hard enamel pin with white color filled, round shape with polishing edge well. Simple design with nice quality. Also the sagittarius pins can be whole printing sticker, and epoxy on it to protect. The hard enamel process will be more good and expensive. The whole print sticker cheaper and also good. Any process are fine based on your idea or budget. Here are more zodiac lapel pins:
Libra lapel pins
and
Aquarius lapel pins
.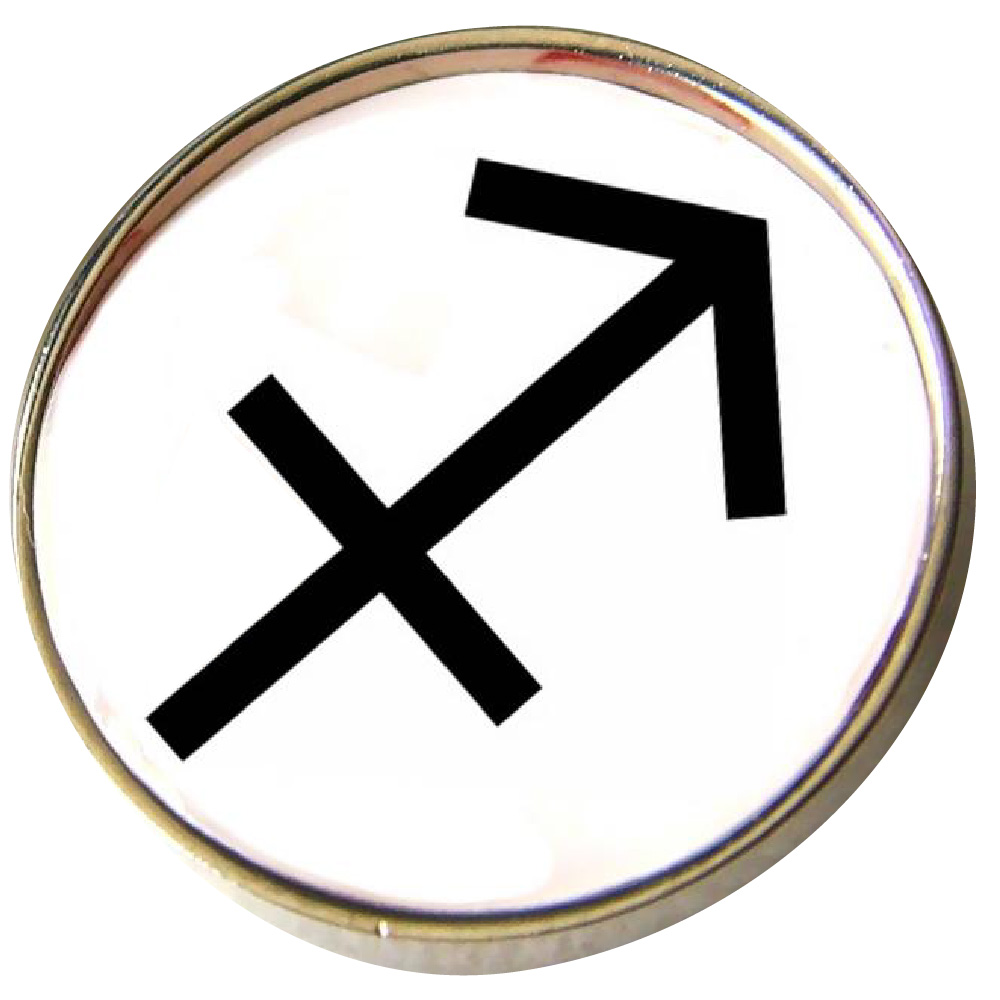 Here are the details:
1) Sagittarius lapel pins
2) Iron/Bronze/Copper/Zinc alloy
3) Size: 1.5" or custom size
4) Attachment: Rubbers or butterfly clutch
5) Production process: Die struck-polishing-hard enamel-nickel silver plating-printing
6) Minimum order: No Minimum (No MOQ)
7) Sampling time: 7 days
8) Delivery time: 10-15 days for 100-5000pcs
9) Packaging: Each into a free poly bag
10)Payment Terms: PayPal,T/T or Western Union