Capricornus is also known as Cassiel. Latitude changes between + 60 ° and 90 ° can be seen. It is the tenth house of the zodiac. The birth date is from December 22 to January 19. It is located east of Sagittarius and west of Aquarius.
Capricornus is a constellation that symbolizes the beginning of winter, and is a constellation that merges and merges angels and demons. Winter brings the "belief" to the Capricorn's birthday without any care. Capricorn people are smart and gentle, you will wander between ideal and reality.
Soulmate: Virgo
The biggest feature: insight
Metal: platinum gold
In charge of the body: feet, nervous system, vascular system
House in charge: the tenth house
Pluto: Uranus, Saturn
Lucky flowers: Tulips, Wisteria, Mandala, Nishi Mist
Lucky numbers: 5, 12, 18, 27, 32
Lucky day: Saturday
Capricorn is a constellation that reflects the beginning of winter, and is also a constellation where angels and demons coexist. Winter brings "realizing value" to Capricorn-born people without reservation. They pursue difficult ideals, like to grasp the overall situation, and are good at independently realizing their own ideals. I like to be calm, thoughtful, kind and kind, open-minded, ambitious, pursue success in a practical way, and believe in the credo of being proud and happy in life.
The Capricornus lapel pin have the same design as
Cancer lapel pin
, just the center printing logo changed Capricorn instead, so still round classic shape with white hard enamel. Finally printing Capricorn logo on it, all zodiac making with this process can be save mold charge, just same mold just need 12 zodiac logo printing charge. Also we can making different design for you, only cost little much.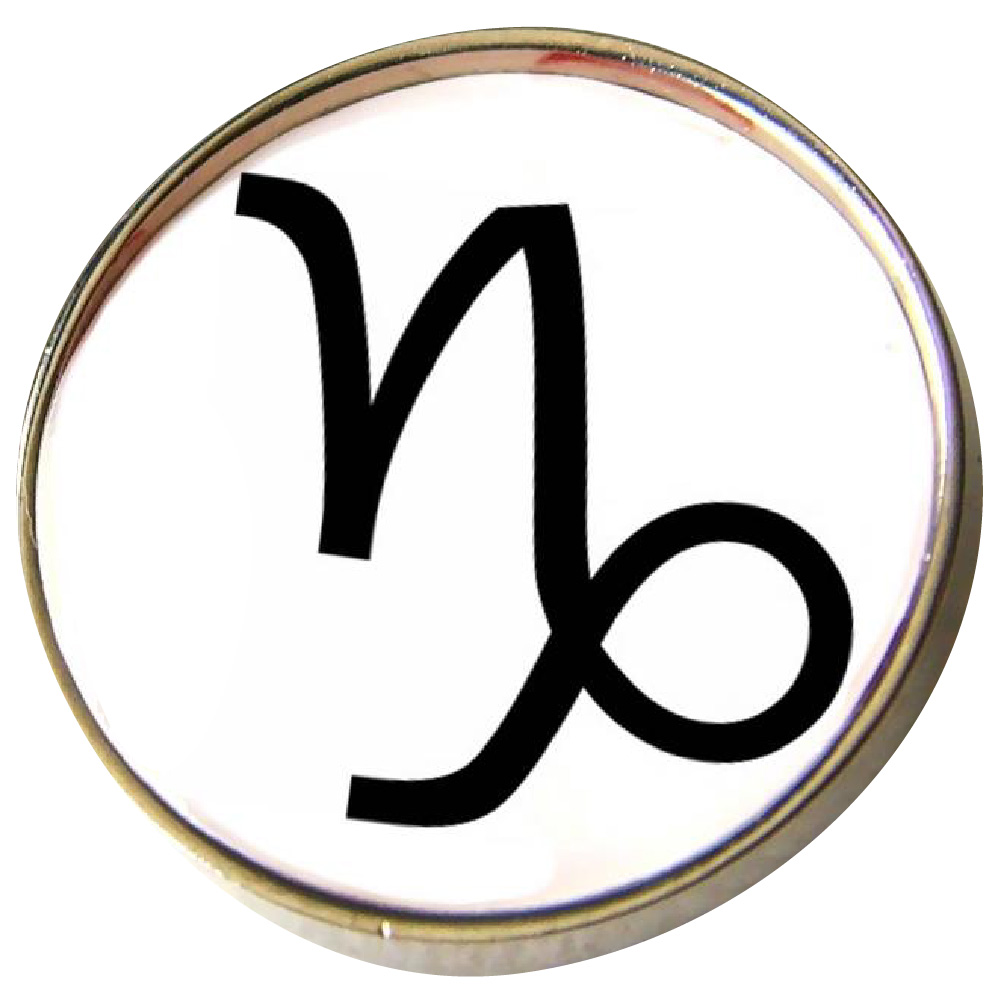 Here are the details:
1) Capricorn lapel pin
2) Iron/Bronze/Copper/Zinc alloy
3) Size: 1.5" or custom size
4) Attachment: Rubbers or butterfly clutch
5) Production process: Die struck-polishing-hard enamel-nickel silver plating-printing
6) Minimum order: No Minimum (No MOQ)
7) Sampling time: 7 days
8) Delivery time: 10-15 days for 100-5000pcs
9) Packaging: Each into a free poly bag
10)Payment Terms: PayPal,T/T or Western Union