Gemini with a birth date from May 21 to June 21, represents fickleness and communication. The main characteristic of the vivid spring in the character of the Gemini is that the thinking is fickle, unrestrained, and the never-ending curiosity about the all-encompassing things in the outside world can be said to be a smart sign. There is no problem for Gemini people to fight alone, but in real work, team cooperation is often required, so if Gemini can put down the team, there will be development in the workplace. People in Gemini are impatient and do not pay attention to details. They often come quickly and go quickly, giving the impression of being anticlimactic. Their principle of doing things is: tell me what to do, I can do things well, but don't tell me how to do it!
Constellation attributes: wind elephant
Yin positive: positive
Metal: Silver
Guardian God: Zeus
Tripartite Palace: Change Palace
Lucky color: light yellow
House in charge: the third house
Gemini advantages Gemini disadvantages
Good at arguing Downturn
Funny Poor endurance
Responsive childish
Full of curiosity Lack of security
Humorous Easily sensitive
Good eloquence
Strong problem solving skills
The Gemini lapel pins is the hard enamel pin with white color filled, round shape with polishing edge well. Simple design with nice quality. Also the Gemini pins can be whole printing sticker, and epoxy on it to protect. The hard enamel process will be more good and expensive. The whole print sticker cheaper and also good. Any process are fine based on your idea or budget. Here are more zodiac lapel pins:
Aries lapel pins
and
Leo lapel pins
.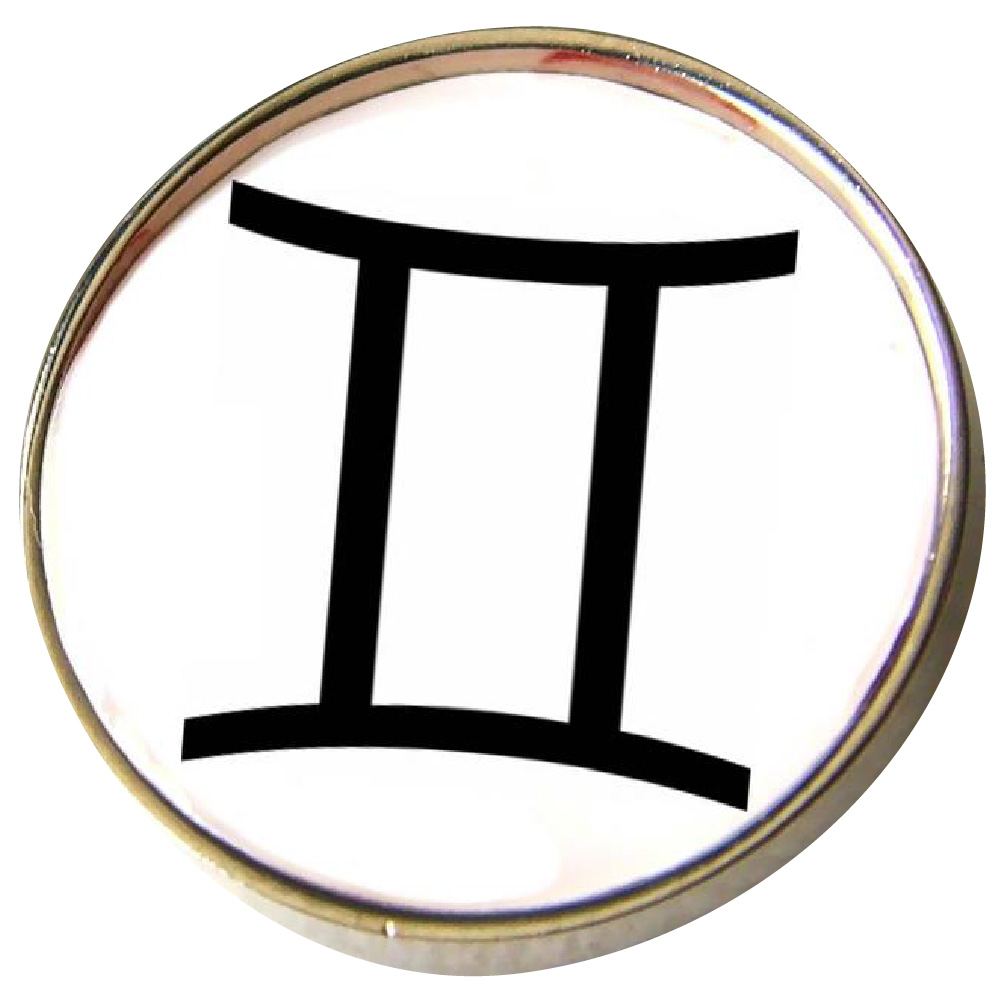 Here are the details:
1) Gemini lapel pins
2) Iron/Bronze/Copper/Zinc alloy
3) Size: 1.5" or custom size
4) Attachment: Rubbers or butterfly clutch
5) Production process: Die struck-polishing-hard enamel-nickel silver plating-printing
6) Minimum order: No Minimum (No MOQ)
7) Sampling time: 7 days
8) Delivery time: 10-15 days for 100-5000pcs
9) Packaging: Each into a free poly bag
10)Payment Terms: PayPal,T/T or Western Union