Poker is a paper-based tools can be entertaining popular gambling world. Because of different games are played, it is commonly known as Solitaire, playing card other titles vary. The standard transliteration of the name poker.There are four colors total.
Four colors representative of society at that time the four major industries, including spades spear, a symbol of the military; Plum representative clover flower, a symbol of agriculture; brick square piece on behalf of artisans use; hearts on behalf of hearts, a symbol of the priest.
Another said that the four colors of the artifacts from Europe in ancient divination pattern with which the spades olive leaf, a symbol of peace; Plum as clover, which means lucky; square pieces were a diamond shape, a symbol of wealth; and Hearts for Hearts type, a symbol of wisdom and love.
Here is the one style poker pin. Round design with four colors centered. Top with words:"NATIONAL PUB",bottom words:"POKER LEAGUE" and little "TM. Colors filled with yellow background, center with white, circle ordinary style. Would you want to custom your pins please? Contact us now.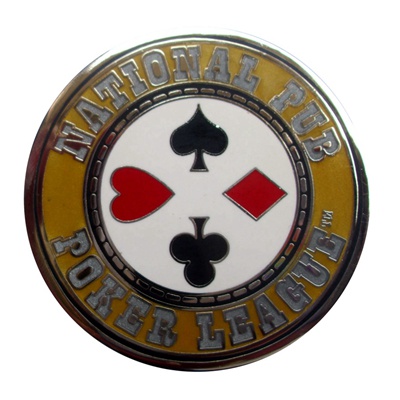 Below is the detailed specification:
1) Stylish poker lapel pins
2) Material: Bronze
3) Size: 1.5" or custom size
4) Attachment: Butterfly clutch
5) Production process: Stamping-plating silver-hard enamel
6) Minimum order: No MOQ
7) Sampling time: 7 days
8) Delivery time: 8-15 days for 100-10000pcs
9) Packaging: Each into a free poly bag
10)Payment Terms: T/T, Western Union, Paypal