Perfume is a mixture of essential oils, fixatives and alcohol and ethyl acetate liquid, used to make objects with a lasting and pleasant smell. Essential oils are obtained from plants, extracted by distillation or liposuction, and perfumed organics can also be used.
Fixatives are used to bind together a variety of fragrances, including balsam, ambergris and musk cat and musk deer gas gland body secretions. Alcohol or ethyl acetate concentration depends on the perfume, Eau de Toilette or cologne. Perfume shelf life, depending on the preservation of the environment, dark, cool place, can be stored for a long time, even a few hundred years.
About three thousand years BC, Egypt began to use spices, which is far earlier than other Egyptian civilization. Egyptian invented the incense God is the first human perfume, that is, but because there was no refining of high purity alcohol technology, so accurately, this perfume should be called the sesame oil, is specially made by the priests and Pharaohs.
Every perfume have a special bottle, every perfume starting the name when enter the market. The design, size, color, cap, material every thing are very important. Also some have words or label on it. This perfume bottle is made with bronze, hard enamel, smooth surface. Only white and yellow colors on, simple lines on bottle, words:"N°6 DRAKE, TEARS, PARFUM", close to famous Chanel No. 5.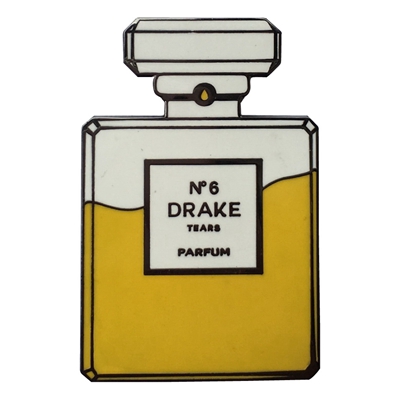 Below is the detailed specification:
1) Perfume bottle pin
2) Material: Iron or bronze
3) Size: 1.5" or custom size
4) Attachment: Butterfly clutch
5) Production process: Die stamping-polishing-black nickel plating
6) Minimum order: No MOQ
7) Sampling time: 7 days
8) Delivery time: 10-15 days for 1000-5000pcs
9) Packaging: Each into a free poly bag
10)Payment Terms: T/T, Western Union, Paypal