Pac-Man is a game ported from the arcade game of the same name to the Atari 2600 platform. It was first launched on the arcade by Namco in 1980, and later on the Atari 2600 version by Atari in mid-March 1982. The earliest stage name of Pac-Man is Pakkuman, which is derived from the pronunciation of "パクパク食べる" paku-paku taberu.
Pac-Man is a classic arcade game in the history of video games. It was designed by Toru Iwatani of Namco and released in 1980 by Midway Games. Pac-Man is considered to be one of the most classic arcade games in the 1980s. The image of the protagonist of the game is even used as a symbol of popular culture. Its developer Namco also uses this image as its mascot and company logo, and it has been used today. The background of the game is mainly black.
The shape of Pac-Man evolved from a slice of pizza, but the producer Toru Iwatani said in an interview in 1986 that the word "mouth" in Japanese was also his source of inspiration-this is another way of exporting native culture through games. A typical exception to this, although the Japanese writing system comes from Chinese.
The pacman enamel pin have the cute design with big head, round eyes on back. There are ears, two hairs, red tongue and white teeth on the yellow background. Very image and cute. The pin is made of zinc alloy die-casting process, clean and beautiful paint, the surrounding metal makes the pin very textured, I can't help but want to touch it. The pacman pin open mouth and want to eat that colorful donut. Do you want to take this pacman enamel in home? Please contact the
best enamel pin manufacturer Lapel Pins CN
.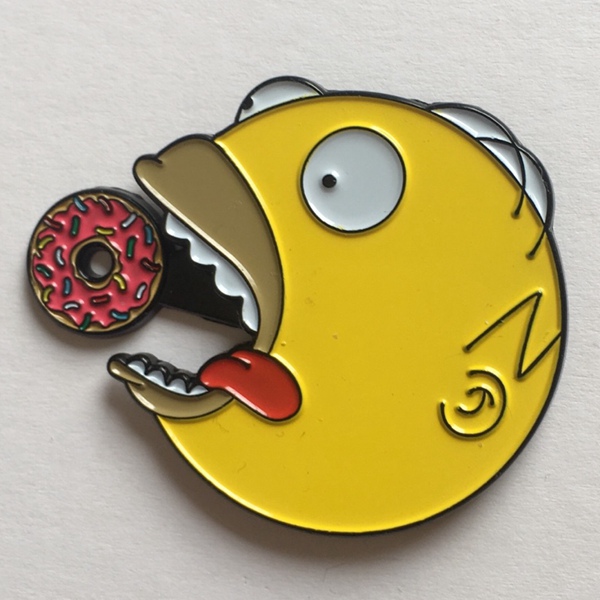 Here are the details:
1) Pacman enamel pin
2) Iron/Bronze/Copper/Zinc Alloy/Pewter Alloy
3) Size: 1.25" or custom size
4) Attachment: Rubbers or butterfly clutch
5) Production process: Die struck-polishing-silver plating-soft enamel
6) Minimum order: No Minimum (No MOQ)
7) Sampling time: 7 days
8) Delivery time: 10-15 days for 100-5000pcs
9) Packaging: Each into a free poly bag
10)Payment Terms: PayPal,T/T or Western Union