Is there a best
enamel pin
manufacturer? How to find the best enamel pin manufacturer? These are hard question, firstly we need to find a pins manufacturer, not a trading company. Trading company service is sure well enough, also we need to find a rich experience manufacturer, not a new one. You can check the domain name like: www.lapelpinscn.com registered when, our lapelpinscn.com registered 6th Dec 2010, it's been over 7 years soon. We are making thousands of hundreds of pins, coins, medals, key chain... Any process, any technology, any shape...are fine, even any country are have our customer.
So you do not need to worry about is this Lapel Pins CN OK or not. This is the firstly step, then how to check it's a best manufacturer now? Internet information is just little and need to make business each other to find how's the crafts. We have making many goods for Coca Cola, Pepsi, Wal-Mart,Disney,Hasbro,Amazon,McDonald's,Apple... Our company is not very big, over 100 workers, but have strict production process and best quality. So we are one of them if you find the best enamel pin manufacturer.
Here is one of our enamel pin: wing lapel pins with silver metal, hard enamel technology, two sides wings with grey colors. Center is a big heart (
heart lapel pins
) of dark red, words:"Tupperware MC", it's Tupperware company logo pins, seems flying to the sky with their heart. The design making with die struck is perfect and hard enamel is best quality.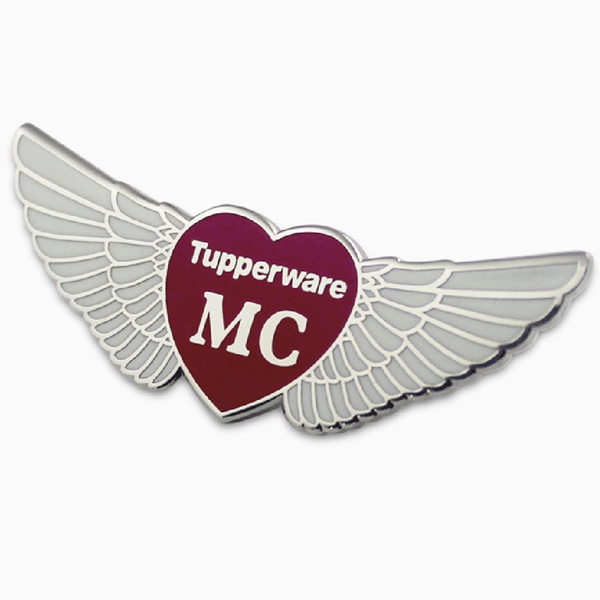 Below is the details:
1) Wing lapel pins
2) Material: Iron/Bronze
3) Size: 1.25" or custom size
4) Attachment: Butterfly clutch or rubbers
5) Production process: Die stamping-hard enamel-plating
6) Minimum order: No MOQ
7) Sampling time: 7 days
8) Delivery time: 10-15 days for 100-5000pcs
9) Packaging: Each into a free poly bag
10)Payment Terms: T/T, Western Union, Paypal