Donald Trump, born on June 14, 1946, was born in New York, USA. His ancestry is Bavaria, Germany, a German-American Republican politician, entrepreneur, real estate businessman, TV person, and the 45th President of the United States.
Trump received a bachelor's degree in economics from the Wharton School of the University of Pennsylvania in 1968, and then worked for his father Fred Trump's real estate company. In 1971, he took over the company, engaged in real estate development, and gradually extended the investment scope to other industries. Trump announced his candidacy for the President of the United States as a Republican in June 2015. He was elected the 45th President of the United States on November 9, 2016, and was sworn in on January 20, 2017.
Since taking office in January 2017, the Trump administration has made great progress in tax cuts, tough trade policies, increasing diplomatic and military deployment, and relaxing financial supervision through legislation, signing executive orders, and personnel appointments. The tax reform is the biggest highlight of his previous achievements. On August 27, 2020, Trump accepted the Republican presidential nomination at the White House and officially became the 2020 US presidential candidate.
This Trump lapel pin is the cartoon design with funny looking, the cute shape has an open mouth, green glasses, and green tentacles. Trump was wearing a black suit and red tie, holding a gun in his left hand and looking at it. There are text on the top: "I WANT YOU FOR THE U.S.", "SPACE FORCE" and bottom: "ENLIST NOW!" All pin made with a rectangle shape, black nickel plating with soft enamel painting process. Nice quality
enamel pins
.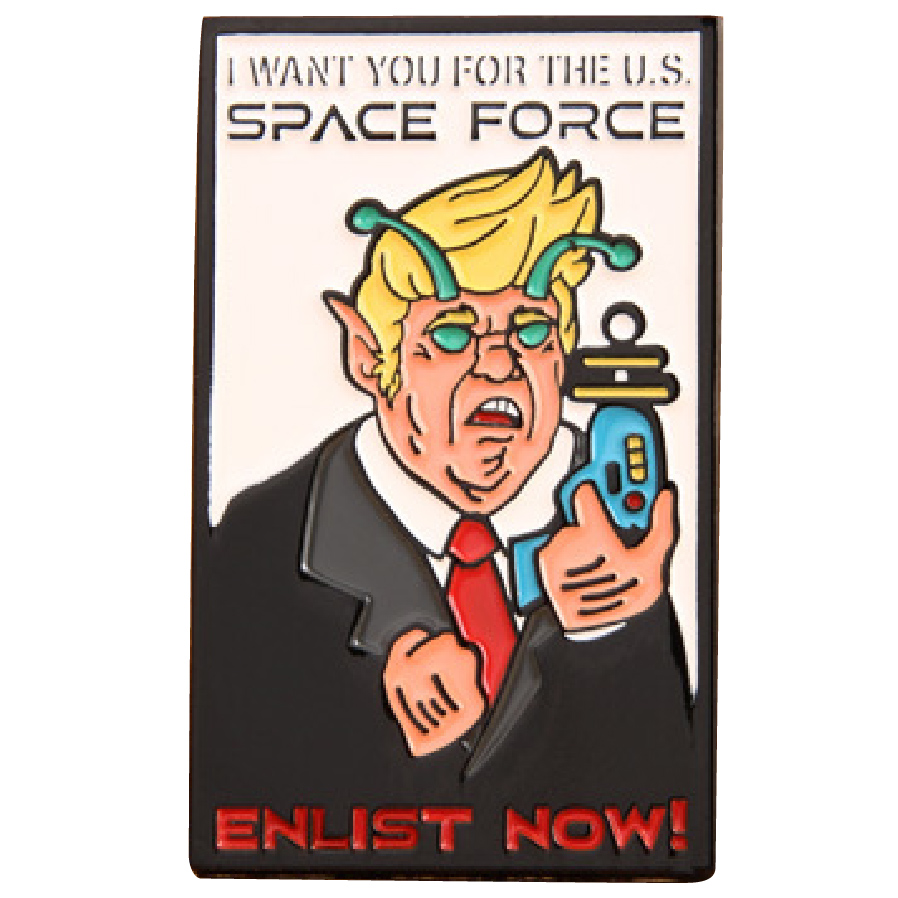 Here are the details:
1) Trump lapel pins
2) Iron/Bronze/Copper/Zinc Alloy/Pewter Alloy
3) Size: 1.25" or custom size
4) Attachment: Rubbers or butterfly clutch
5) Production process: Die struck-polishing-black nickel plating-soft enamel
6) Minimum order: No Minimum (No MOQ)
7) Sampling time: 7 days
8) Delivery time: 10-15 days for 100-5000pcs
9) Packaging: Each into a free poly bag
10)Payment Terms: PayPal,T/T or Western Union