The Pacific Northwest (PNW), sometimes referred to as Cascadia, is a region in western North America bounded by the Pacific Ocean to the west and, loosely, by the Rocky Mountains on the east. Though no agreed boundary exists, a common conception includes the U.S. states of Oregon, Washington, and the Canadian province of British Columbia.
The Northwest Coast is the coastal regions of the Pacific Northwest and the Northwest Plateau (also commonly known as "The Interior" in British Columbia[1] and the Inland Empire in the United States) is the inland regions.This is the mysterious area introduction.
Below is the Pacific Northwest lapel pin: also it's a
PHISH lapel pins
as we making ago. Polished silver plating, one man shoulder a axe with many mustacha, wear a cap and show a big hand. Somewhere take the glitter one, also it's a glitter lapel pins. Left words:"PACIFIC NORTHWEST","EUGENE, OR. 10/17","SEATTTLE, WA. 10/18" , and "FALL TOUR 2014". I have to say the glitter is beautiful. Welcome
custom lapel pins
yourself, size,design and colors are customized.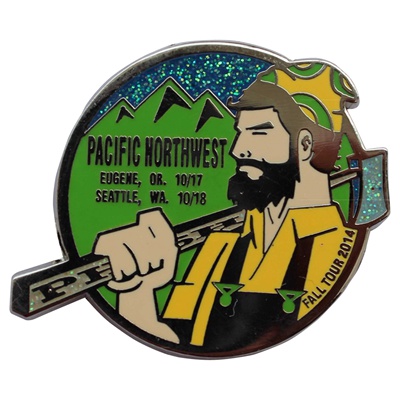 Below is the detailed specification:
1) Pacific Northwest lapel pins
2) Material: Bronze
3) Size: 1.5" or custom size
4) Attachment: Butterfly clutch
5) Production process: Stamping-polish-hard enamel-nickel silver plating
6) Minimum order: No MOQ
7) Sampling time: 7 days
8) Delivery time: 8-15 days for 100-10000pcs
9) Packaging: Each into a free poly bag
10)Payment Terms: T/T, Western Union, Paypal