Leo (July 23 - August 22) (astronomical symbol: ♌) one of zodiacal constellations, an area of 946.96 square, accounting for 2.296 percent of the day area, in day 88 constellations, the area ranked twelfth. Each year March 1 Leo center the sky after midnight. Leo is a constellation in the sky south appear in the spring night. It symbolizes the heart of a lion and the tail. Guardian star is the sun, the patron saint of the sun god Apollo.
People's of Leo, king of beasts equivalent character, strong, reliable, proud, generous. He's all as you are honest, dependence on him, even sacrifice their own will properly take care of each other.
Leo women naturally pure enthusiasm. Stamina, vitality full. Warm and cheerful, there is a strong personality, but in some cases lack a firm stand. Leo men are very good at show their charisma to attract a lot of the opposite sex. But when people see Leo who exudes masculinity, almost everyone will be impressed by his mature charm.
Here is the
lion lapel pins
and leo club pins: big lion head on top with "LEO" center, two head on each side, looks very strong and dignified. Below is more big "LEO" with red hard enamel, and a white diamond in "O". All pins making with gold plating, shinny and valuable.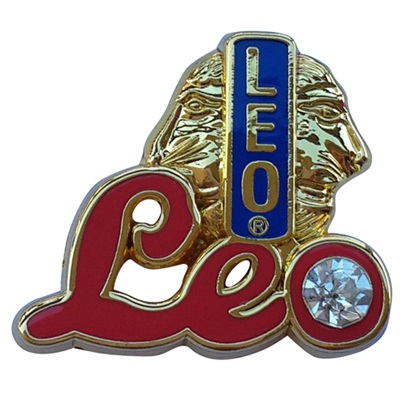 Below is the detailed specification:
1) Leo club pins
2) Material: Zinc alloy
3) Size: 1" or custom size
4) Attachment: Gold butterfly clutch
5) Production process: Die struck-plating-hard enamel
6) Minimum order: No MOQ
7) Sampling time: 7 days
8) Delivery time: 10-15 days for 1000-5000pcs
9) Packaging: Each into a free poly bag
10)Payment Terms: T/T, Western Union, Paypal