Lapel pin can be divide into front,back,side.The chief part is the front.And a little difference on side.But how's the lapel pin backs?It can be plain,woven design,wave or matt etc.Plain is a little shiny,and smooth.But it may be bubble when plating,even if it's happening seldom.We will advice our custom not to make plain if it's not necessary.

Color on back it depending the color of plated.Silver is the nickel plating,gold is the gold.Also there are many other and anti-color with it,like bronze,copper,anti-nickel,silver,gold ,tin etc.Another method is the spray,it can be kind of color,but it not hard to keep for it's broken easily.Lapel pin backs is not show when wear it,so it it not very important of the product.Always it's ignored,matt is the chose frequently.

This lapel pin backs is the matt one.Attachment is the deluxe clutch.US Flag Pins is the plain one,attachment with butterfly clutch,and Butterfly Lapel Pin is the woven one.And this lapel pin is made with bronze,craftmanship of hard enamel.Color with black and white,shape with irregular round.Nice design and work!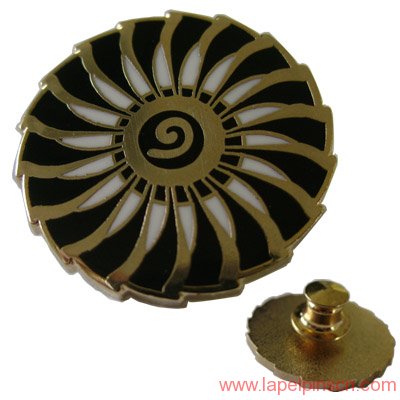 Below is the detailed specification:
1) Round lapel pins back
2) Material: Bronze
3) Size: diamater 1 1/2" or custom size
4) Attachment: Butterfly clutch
5) Production process: Die struck-gold plating-hard enamel
6) Minimum order: No MOQ
7) Sampling time: 7 days
8) Delivery time: 7-10 days for 100-10000 pcs
9) Packaging: Each into a free OPP bag
10)Payment Terms: T/T, Western Union, Paypal