Hulk is the United States Marvel comic super hero, debut in the "The Incredible Hulk" No. 1 (May 1962), by Stan Lee and Jack Kobe together to create. Is a genius doctor of nuclear physics, in an accident in order to save Rick Jones, Gamma Bomb radiation a lot of radiation created by himself, the body mutation, after each time he excited heartbeat The time will become a green monster named Hulk. Birthplace of the United States - Ohio - Dayton, the main achievement involved in the creation of the Avenger Union, a slap to destroy the pocket universe, join the light will, the main ability of invincible strength and endurance, fly the same jump force, swords and gun can not be hurt, strong self ability.
Hulk has Superman's strength, speed, energy and endurance. His ability is related to his emotions, usually the more powerful the more anger. Hulk has more than 100 tons of power, the body can be anti-physical skin, cold weapons, bullets and bomb explosions and other attacks. Hulk also has a very developed leg muscles, can jump, across a long distance, but also fast running. He can also beat the palm of your hand to create shock waves, powerful. He can see the spirit of the body; have radiation absorption capacity; can be deformed; a very high mind control defense; a star-level jumping force.
One of the most powerful man in Marvel comic, here we get the Hulk lapel pin: two pieces of them. One head pin and a fist pin, head with black hair, green skin and white teeth. His face is angry, so his must be the green man. Black nickel plating with hard enamel process, nice work. Green fist with give fingers, seems hit them to someone. This Hulk can be die struck iron or bronze, smooth and beautiful.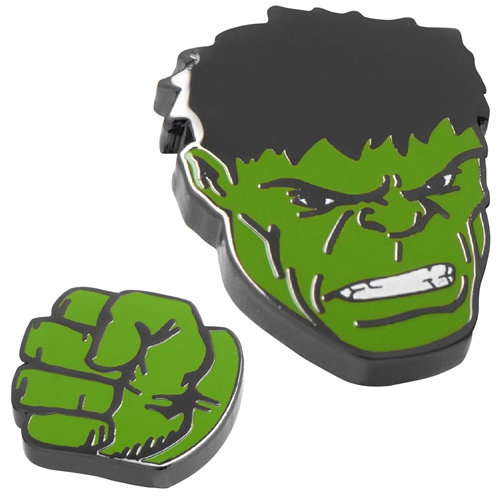 Below is the detailed specification:
1) Hulk lapel pins
2) Material: Iron/bronze
3) Size: 1" or custom size
4) Attachment: Black rubber backs
5) Production process: Die stamping--hard enamel-plating
6) Minimum order: No MOQ
7) Sampling time: 7 days
8) Delivery time: 10-15 days for 100-5000pcs
9) Packaging: Each into a free poly bag
10)Payment Terms: T/T, Western Union, Paypal