Gun is a single hand held target shooting or instinctive shooting short barrel weapons, usually carry special forces commander and used in self-defense within 50 m and assault the enemy. The basic characteristics of modern handguns are: the transformation of insurance, bullets loaded, easy to replace magazines, compact, simple and automatic way.
Pistol in self-defense weapon for single use, it can close its inner fire killing living target. Used for close combat and self-defense. There are modern pistol revolver, automatic pistol (actually a semi-automatic pistol), automatic pistol three types. As firearms gun, which has been nearly 1,000 years of history. In a long historical period, the gun has played a pivotal role in human warfare, especially before World War I, the gun is one of the most important weapons.
Guns have the precise structure, it's made up with many parts and can assemble itself. That's a wonderful gift. But here is the simple gun lapel pin, easy design and color. Silver plating and black color. Also you can design your special weapon lapel pins.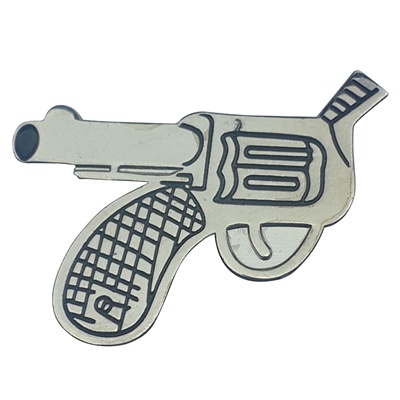 Below is the detailed specification:
1) Gun lapel pins
2) Material: Iron/bronze
3) Size: 1" or custom size
4) Attachment: Butterfly clutch
5) Production process: Die struck-plating-soft enamel
6) Minimum order: No MOQ
7) Sampling time: 7 days
8) Delivery time: 10-15 days for 1000-5000pcs
9) Packaging: Each into a free poly bag
10)Payment Terms: T/T, Western Union, Paypal