The Ferris wheel is a large, rotunda mechanical construction that hangs on the rim of a wheel for passengers to take in. The Gondola. Passengers sitting in the Ferris wheel slowly turn up, you can overlook the surrounding scenery from a height. The most common Ferris wheel exists for the occasion of the amusement park (or theme park) and the park tour, as a playground for mobile games, and the roller coaster, carousel collectively known as "Paradise Sambo." However, the Ferris wheel often exists alone in other occasions, usually used as the activity observation deck.
According to the differences of the operating agencies, the ferris wheel can be divided into three kinds of gravity ferris wheel, non-spoke ferris wheel and observation wheel. Gravity Ferris wheel cockpit is hung on the wheel to maintain the sliding axis of gravity; and viewing Ferris wheel cockpit is suspended outside the wheel, you need more complicated link type mechanical structure, as the car around the turn Position to adjust its level of synchronization.
The earliest Ferris wheel was designed by the American George Washington Ferris in Chicago in 1893 for Columbus Memorial Expo in order to compete with the Paris Tower built by Paris at the 1889 Expo. The first Ferris wheel weighs 2200 tons, can take 2160 people, the height is equal to 26 floors. Due to the achievements of FaLith, people will call this facility "Ferris Wheel" in the future, that is, the familiar Ferris wheel.
The ferris wheel lapel pins are the cartoon pins, colorful whole pins, The pink base main part, light connected pole, eight different color seats from pink to yellow. Eight part colors to, silver plating metal with hard enamel nice process. It's a valuable pins.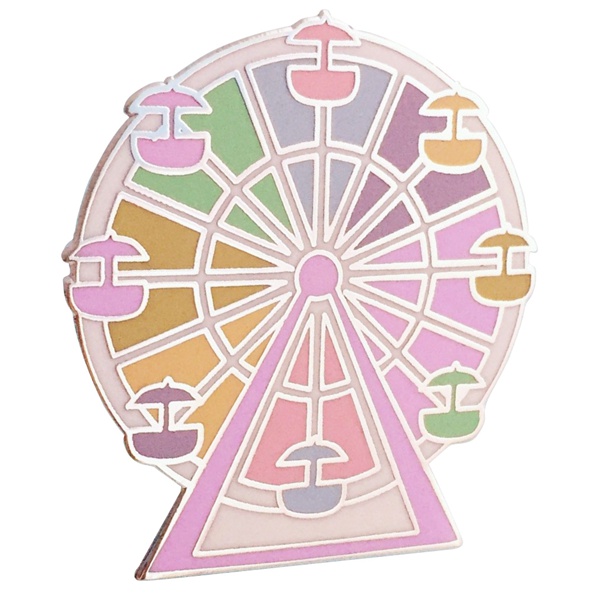 Below is the details:
1) Ferris wheel lapel pins
2) Material: Iron/bronze
3) Size: 1.25" or custom size
4) Attachment: Butterfly clutch or rubbers
5) Production process: Die struck-polishing-hard enames-plating
6) Minimum order: No Minimum (No MOQ)
7) Sampling time: 7 days
8) Delivery time: 10-15 days for 100-5000pcs
9) Packaging: Each into a free poly bag
10)Payment Terms: T/T, Western Union, Paypal