Alabama is a state in the southeastern United States, north of Tennessee, east of Georgia, south of Florida, near the Gulf of Mexico. The capital of Montgomery, area of 133,667 square kilometers, population 4599030 (2006). State name from the Indian language, meaning "I opened up a piece of the shortage of forest areas." There are 67 counties in Alabama, and the main cities are: Birmingham, Mobil, Montgomery.
Alabama agriculture has cotton, soybeans, peanuts. Industry has chemical, textile, paper, food. The steel industry is concentrated in Birmingham. Minerals and media, oil, stone. There are forest harvesting and fisheries in the state. Alias Dixie heart, camellia state, under the jurisdiction of 67 counties, government resident, Montgomery City, an area of 135,765 square kilometers, Airport: Birmingham International Airport. The largest city: Birmingham. State flower: camellia. Joined the Federation in 1819, became the United States 22th states. Quit from the federal 1861 when the Civil War, re-joined the federal in 1868.
Here is the Alabama lapel pin, also seems like a A lapel pins. Design shape with A, nickel silver plating with hard enamel. Top center little triangle area is the recessed sandy metal. Arc-shaped around the A, dark red is the only color. Simple and nice, making the map Alabama pin or words Alabama pin are OK too.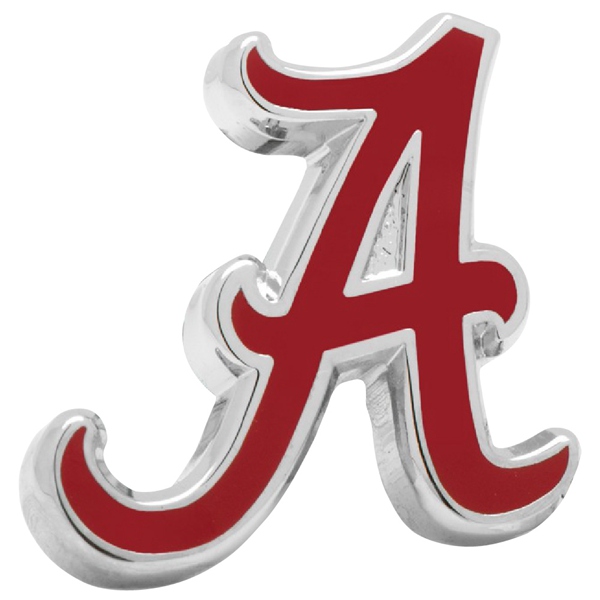 Below is the detailed specifications:
1) Alabama lapel pin
2) Material: Iron/bronze/zinc alloy
3) Size: 1" or custom size
4) Plating: Nickel silver
5) Production process: Die struck-painting-plating
6) Minimum order: No MOQ
8) Delivery time: 8-15 days for 100-10000pcs
9) Packaging: Each into a free poly bag
10)Payment Terms: T/T, Western Union, Paypal