Illustrator, often referred to as "AI", is an industry standard vector illustration software for publishing, multimedia and online graphics. As an excellent vector graphics tool, it is mainly used in print publishing, poster book layout, professional illustration, multimedia image processing and Internet page production, and also provides high precision and control for line art, suitable for producing any small design to large and complex projects.
Adobe Illustrator, as the world's most famous vector graphics software, has occupied a large share of the world's vector editing software with its powerful features and considerate user interface. According to incomplete statistics, 37% of the world's designers use Adobe Illustrator for artistic design.
Adobe Photoshop, or "PS" for short, is an image processing software developed and distributed by Adobe Systems that works primarily with digital images made up of pixels. With its many editing and drawing tools, you can effectively edit images. ps has many features that cover all aspects of image, graphics, text, video, and publishing.
Top one is the PS lapel pins, bottom one is AI lapel pins, all of them are similar design. Only the center different words. The PS pins is the black metal with blue and white
soft enamel
colors. The AI lapel pins is the black metal with orange and white soft enamel colors. Simple square shape with the oval down words:"I Love You". Here are more beautiful soft enamel pins:
thin blue line lapel pins
, take one if you like these two software or you are a designer when working.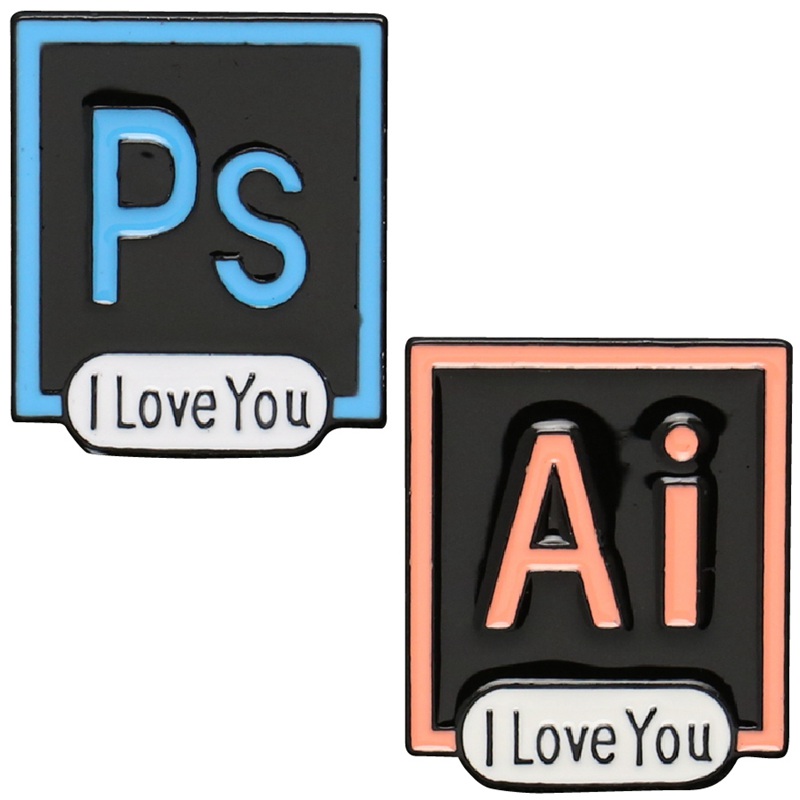 Here are the details:
1) PS AI lapel pins
2) Iron/Bronze/Copper/Zinc Alloy/Pewter Alloy
3) Size: 1" or custom size
4) Attachment: Rubbers or butterfly clutch
5) Production process: Die struck-polishing-black nickel plating-soft enamel
6) Minimum order: No Minimum (No MOQ)
7) Sampling time: 7 days
8) Delivery time: 10-15 days for 100-5000pcs
9) Packaging: Each into a free poly bag
10)Payment Terms: PayPal,T/T or Western Union