Frida Kahlo was a well-known Mexican female painter from July 6, 1907 to July 13, 1954. Frida's real name is Magdalena Carmen Frieda Kahlo y Calderón, she was born in the Coyoacan neighborhood in the south of Mexico City. His father is a German Jewish painter and photographer, and his family comes from Oradea, Romania.
Frida was born in Mexico City in 1907 and is the third daughter of the family. She suffered from physical damage for a long time in her life. He got polio when he was 6 years old and has since become lame. She was sent to Preparatoria in 1922, which is one of the best preparatory schools in Mexico. It had just begun to enroll girls at the time. Frida was one of the 35 girls out of 2000 boys. It was in this school that Frida met her future husband Diego Rivera (Diego Rivera), one of the three masters of the Mexican mural movement.
55% of her life's paintings are fragmented self-portraits (such as organ separation, surgery, heart and other specific representations, representing the pain of the painter). In addition, Frida is also deeply influenced by Mexican culture , She often uses bright tropical colors and adopts the style of realism and symbolism.
The Frida Kahlo enamel pin have the black metal and colorful
soft enamel
. Hair have three flowers and many leaves. The design of the face is relatively cartoon, the eyebrows are connected, and the nose is straight, and there are two on the face. A big red dot, the mouth is bright red. The ears are yellow and there are two large pendants. The whole badge is clear, simple, and full of Frida's self-portrait features. If you like Frida, hurry up and buy one to take home. It's a famous person pin like
Trump lapel pins
.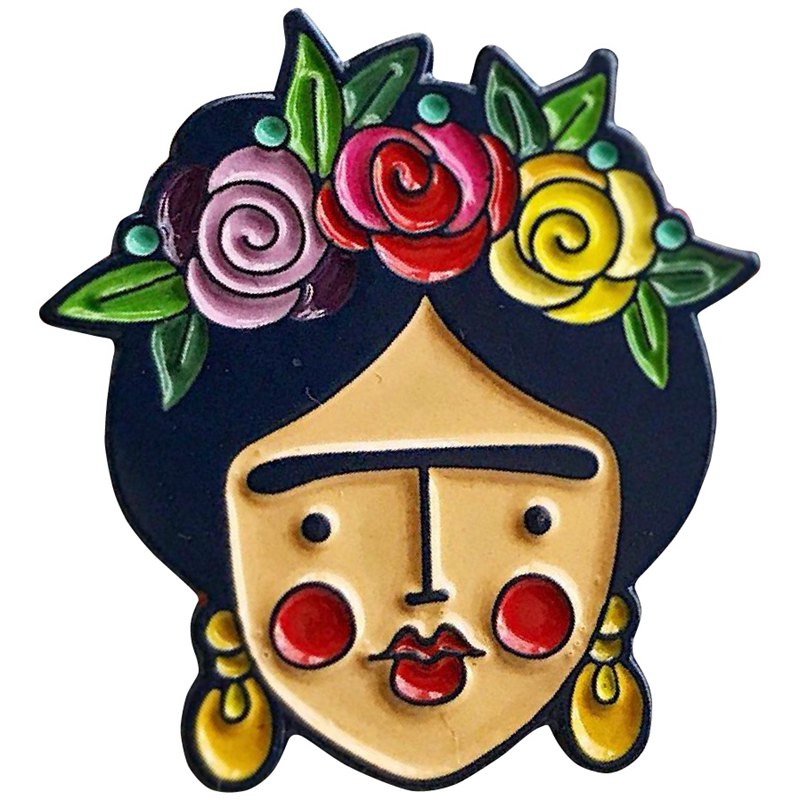 Here are the details:
1) Frida Kahlo enamel pin
2) Iron/Bronze/Copper/Zinc Alloy/Pewter Alloy
3) Size: 1.25" or custom size
4) Attachment: Rubbers or butterfly clutch
5) Production process: Die struck-polishing-black metal plating-soft enamel
6) Minimum order: No Minimum (No MOQ)
7) Sampling time: 7 days
8) Delivery time: 10-15 days for 100-5000pcs
9) Packaging: Each into a free poly bag
10)Payment Terms: PayPal,T/T or Western Union