Bicycles are usually small two-wheeled land vehicles. After a person rides on the car, he uses his foot on the pedal as the driving force, which is a green and environmentally friendly means of transportation. Among them, bi means two, and cycle means wheel, that is, a two-wheeled vehicle. . There are many types of bicycles, including single bicycles, tandem bicycles and multi-person bicycles.
Bicycles can be used as an environmentally friendly means of transportation for transportation and travel; more and more people use bicycles as fitness equipment for cycling exercises and bicycle outings; bicycles themselves are also a sports competition, including road bicycle races and mountain bike races. , Track cycling race, stunt bike race, etc.
The Tour de France is an annual competition in the road cycling world, and it can also be said to be the most important cycling road race at present, with a cumulative total length of more than 3,000 kilometers. Since 1903, it has been held every summer in July, except for being aborted by two world wars. Immediately after the Tour of Spain and Tour of Italy, it became the climax of the summer cycling race and ended. The Tour de France has ushered in its 99th birthday. The Tour de France is the world's most influential, largest, and highest level bicycle race. The Tour of Italy and Tour of Spain followed.
The bicycle enamel pin is a cartoon pin. The overall design is cheerful and full of childishness. This is a double-length bicycle. There is a storage basket in the pin front, which is filled with flowers. In the front sits a man like a cartoon bear, and a woman in yellow clothes sits in the back. Most bicycles lapel pin are pink, and the blank spaces between the wheels and the car are white. The lapel pin is electroplated black nickel, with a mysterious black luster, and the color is smooth and bright hard enamel. The whole is flat and has a cartoon and joyful feeling.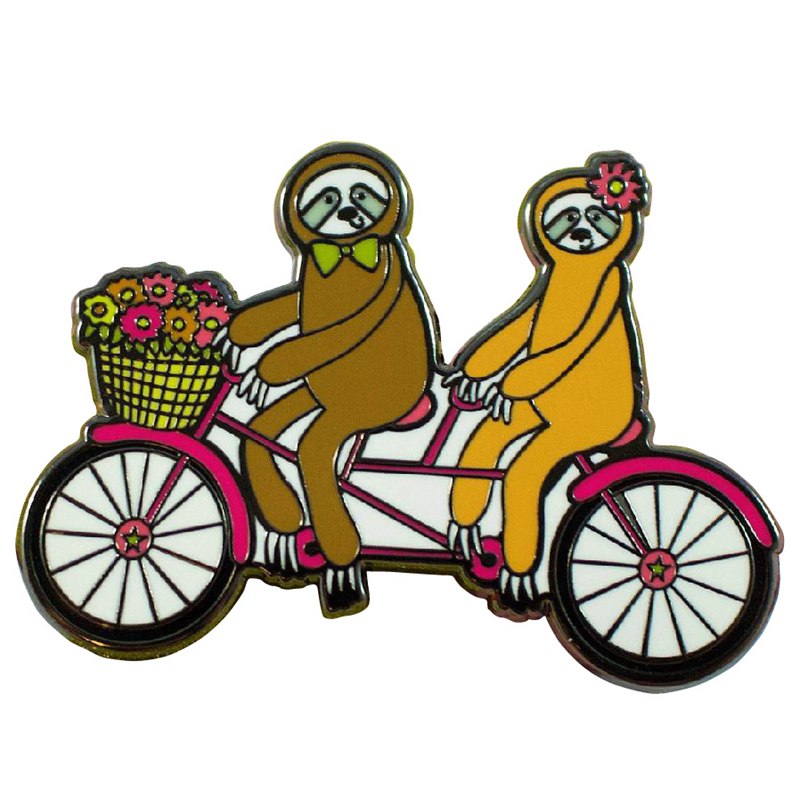 Here are the details:
1) Bicycle enamel pin
2) Iron/Bronze/Copper/Zinc Alloy/Pewter Alloy
3) Size: 1.25" or custom size
4) Attachment: Rubbers or butterfly clutch
5) Production process: Die struck-polishing-hard enamel-black nickel plating
6) Minimum order: No Minimum (No MOQ)
7) Sampling time: 7 days
8) Delivery time: 10-15 days for 100-5000pcs
9) Packaging: Each into a free poly bag
10)Payment Terms: PayPal,T/T or Western Union