The "thin blue line" is a term that typically refers to the concept of the police as the line which keeps society from descending into violent chaos. Its use referring specifically to the police was popularized by Los Angeles Police Chief Bill Parker during the 1950s; author and police officer Joseph Wambaugh in the 1970s, by which time "thin blue line" was used across the United States; and Errol Morris's documentary The Thin Blue Line (1988).
Variations representing professions other than law enforcement exist, such as the "thin red line" flag, representing firefighters. The "Thin Blue Line" flag is all black, bearing a single horizontal blue stripe across its center. Variations of the flag, often using various national flags rendered in black and white with a blue line through the center, are seen below. The "Blue Lives Matter" movement was created in December 2014.
There are two thin blue line lapel pins, all of them are making based on the USA flag. Top one made with gold metal with hard enamel, all shinny metal and colors are flat on one level, it's luxury and advanced. Only one blue line of center of the
flag pins
. Bottom one is the same design but different technology, it's a printing pins with all colors print. The epoxy on surface to protect the pins.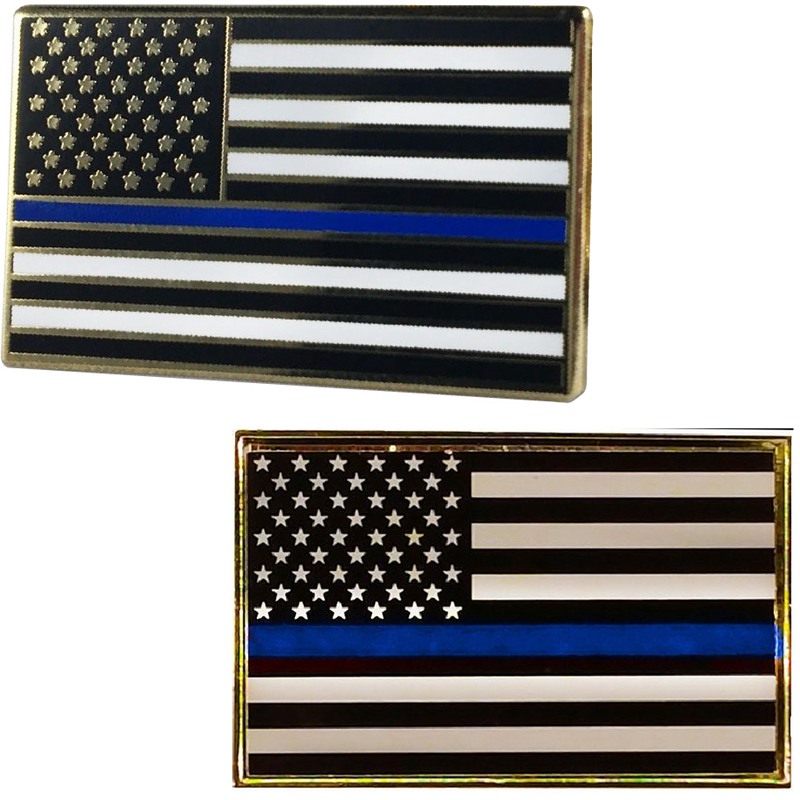 Here are the details:
1) Thin blue line lapel pins
2) Iron/Bronze/Copper/Zinc Alloy
3) Size: 1" or custom size
4) Attachment: Rubbers or butterfly clutch
5) Production process: Die struck-polishing-hard enamel-gold plating
6) Minimum order: No Minimum (No MOQ)
7) Sampling time: 7 days
8) Delivery time: 10-15 days for 100-5000pcs
9) Packaging: Each into a free poly bag
10)Payment Terms: PayPal,T/T or Western Union