dota as a LAN game, has fashionable in the globe. Warcraft Frozen Throne from, how many of the body will play against the fun and excitement. Variety of equipment systems, in different styles, skills and varied role, or the simple, fun map. Gives the sense of a different gaming experience for everyone.

Tense, exciting, intense, and so on are not adequate to describe the extent of dota for fun. Many people feel dota fun all-night. Many newcomers to show their style better, expend a lot of time and effort. Only to operate the equipment and become familiar with the map, role skills. As the most popular World of Warcraft Battle map, fans around the world is endless.

Therefore, we produced such a,dota game lapel pin. Necessary equipment to play dota. As long as they play dota, and chest have such a lapel pin, friends do not have to ask whether playt DOTA, only a glance. Lapel pin with the official website of DOTA LOGO design, zinc alloy material, plating with anti-brass,technology of casting,not with stamping. Dark gold represents the value of rare items with gold lapel pins or metal lapel pins. Instantly have a shiny glitter lapel pin of their own chest to prove the identity of your family DOTA!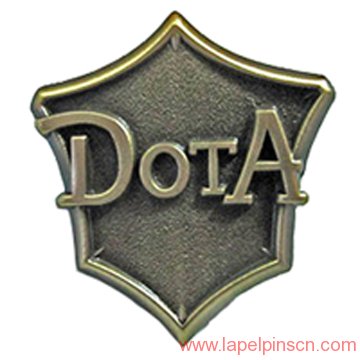 Below is the detailed specification:
1) Dota game lapel pin
2) Material: Zinc alloy
3) Size: 1"x1" or custom size
4) Attachment: Butterfly clutch
5) Production process:Casting-polishing-plated
6) Minimum order: No MOQ
7) Sampling time: 8 days
8) Delivery time: 8-15 days for 100-10000pcs
9) Packaging: Each into a free poly bag
10)Payment Terms: T/T, Western Union, Paypal