This badge printing looks like a soccer clothes, very closely. Two sleeves, football logo.It is made of two colors: white and blue. Interval with it very pure and fresh. When take it on clothes,you will be the focus .Badge can be made with iron, zinc alloy, brass and other metal. When iron is the cheapest, and brass is the best quality.

This printing badge, is use tecnology of imitation enamel, also called hard enamel. It is the best replace of cloisonne. Now more and more lapel pins manufacturers and consumer are select it. For it is more cheaper, more colorful, and almost the same quality as cloisonne.

Another craftmanship with this printing lapel pin is offset printing. The small logo on it is use the printing. It's hard to use enaml for it's too samll to make (same technology with printing metal pins.). And plating with nickel, also called silver color. Many logo on it, some of them are: ""BUNDES LIGA", "VFL", "Herforder pils".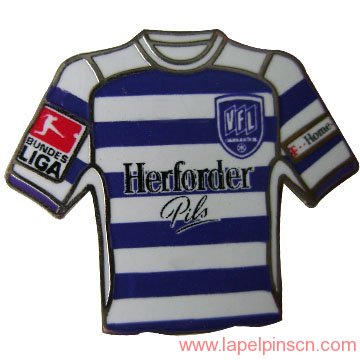 Below is the detailed specification:
1) Badge printing
2) Material:Zinc alloy/ bronze
3) Size: 1 1/2" x 1 1/2"; Custom size
4) Attachmeng: Butterfly clutch
5) Production process:Stamping-plating-enamel
6) Minimum order: No MOQ
7) Sampling time: 8 days
8) Delivery time: 8-15 days for 100-10000 pcs
9) Packaging: Each into a free poly bag
10)Payment Terms: T/T,Western Union,Paypal