Printing is the most Ancient civilization in the world.Also,it is one of the Four Great Inventions in China.With it's magic technology,beautiful image.We loved it of people's culture at once.Save people's hand with writing,only engrave on the stone.That's the original of printing.And now on,there has much more technology with the former.
But it can be printing,more quicker,more clear,more cheaper.That's the benefit with science and technology.Also,it is used many aspect in our life.Clothes,bookes,computer,craft and even lapel pins.Printing is one technology of lapel pin.When the color was approximately,and very abundant.It will be a printing lapel pin.
Compare with the enamel pin,printing is more cheaper and convenience.Also,it will be epoxy on the surface always.Protect the lapel pins not to damage. This printing pin logo with tower (check discount lapel pins), one baseketball nets. With words: "Hoops for Hope", "ALL STAR CLASSIC", "Sponsored by HOOPS FOR YOUTH FOUNDATION".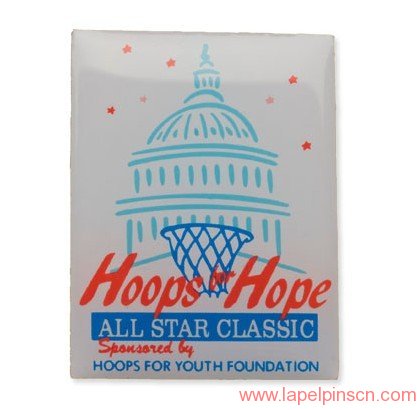 Below is the detailed specification:
1) Printing lapel pins
2) Material:Stainless iron
3) Size: Custom size
4) Attachmeng: Butterfly clutch
5) Production process:Offset printing
6) Minimum order: No MOQ
7) Sampling time: 7 days
8) Delivery time: 8-15 days for 100-10000 pcs
9) Packaging: Each into a free poly bag
10)Payment Terms: T/T,Western Union,Paypal